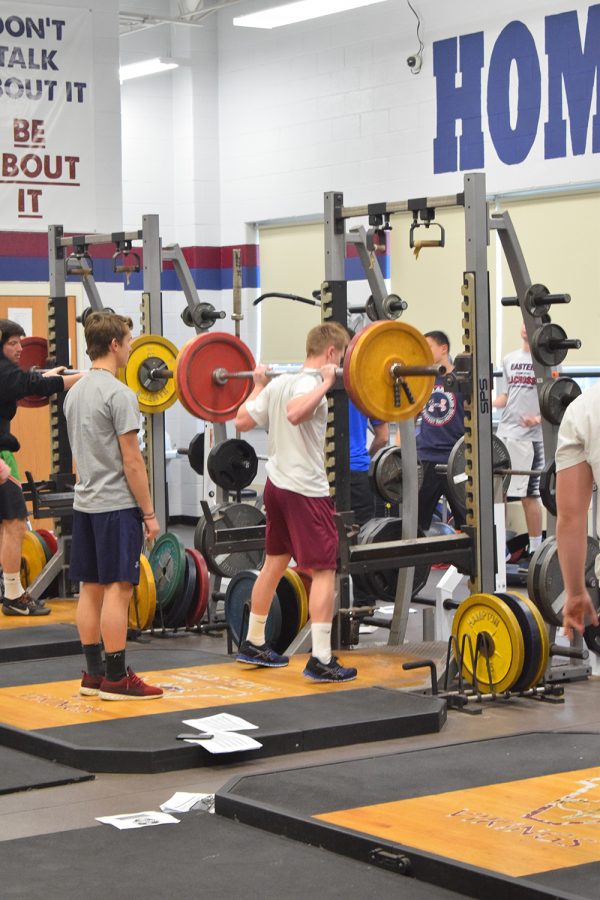 Making its appearance in the year 2018-2019, as an alternative option to PE, is the brand new Lifestyle Fitness course taught by Mr. Jones. This course is for grades 11-12 and all students of those grades, no matter their current fitness, knowledge or background of fitness. It is designed for students that are willing to work hard, get in shape, and want to challenge themselves physically to advance and improve their overall physical and mental health.
  Students that enjoy exercise would rather workout during the day amongst their peers than work out on their own, or students that want to get fit but don't know where to start are encouraged to take this course. "I think it will be good for students that have been thinking about joining a gym or fitness class but aren't really sure where to begin. I hear a lot of kids say to me things like they want to "lose weight", "get big muscles" or "have a six pack," says Jones, "but they have no idea how to go about it."
  "I think it's an excellent way to experience real gym activities in a friendly environment. I definitely want to develop a higher stamina, become stronger, and exercising has also been effectively proven to alleviate stress," said Mia Prowisor who is a current sophomore looking to join Lifestyle Fitness.
  "Since going out to the gym isn't something I have time to do, Lifestyle Fitness seemed like a cool, fun, effective way to become healthier," continued Mia. Another sophomore named Marissa Nissley stated she wasn't positive as she had concerns whether she'd enjoy or be able to handle the workouts. "I'm not exactly sure if I'm taking Lifestyle Fitness yet, but I'm interested in it because I'm not very athletic. I hate playing traditional ball sports and it seems like a good alternative. I would be most interested in participating in yoga and aerobics if I were to take the course," she says. Having the same argument as her, Marisa Tate who previously contradicted taking Lifestyle Fitness is now signed up. "I joined to try something new instead of the same activities we usually do every year. Also, I signed up because most of my friends are taking it."
  Types of workouts to expect are crossfit style (including battle ropes, sandbags, jump rope, and kettle balls), yoga, spin room, cardio boxing/kickboxing, weight room, military bootcamp, and zumba. However, students are not to be intimidated by these workouts. All workouts can be adjusted for different ability levels.
  "I want to join this course to gain more time working out on top of when I go to the gym. I think that other kids who want to stay fit would like this class especially when they can't get a gym membership," says a current anonymous junior who is looking forward to advancing his fitness skills.
  Primarily, the class will be held in the Gym 3 Weight room and occasionally outside and the spin room. Mondays through Thursdays there will be different "workouts of the day" and on Fridays there will be game days including games like kickball and volleyball. There has been a concern, and something Mr. Jones considered to be an issue for some students, would be breaking a sweat. Nothing is promised but Jones has some ideas on students that want to commit and still work around this if it's a concern to the student at all. "Not every class will be "high intensity." We will also have days with activities like yoga or traditional weightlifting where you may not break a sweat at all," says Jones. "We could look into having the showers open during common lunch so that at worst you would only be sweaty for a class or two before being able to take a shower. Ask yourself if this is something you are truly interested in, then make the commitment and see it through."
  Besides fitness based training and activities, there is another benefit to this course. For those whose interests are focused not only on physical activity, but also on obtaining good overall nutrition, this course has an in-class portion, teaching students the principles of fitness, diet, and nutrition to put to use in your daily lives now or for the future.
"Hopefully, the course will be around for a long time and the students that are involved next year can look back and say they were a part of the first class and helped get things rolling. I want to incorporate a variety of workouts so the students can find what really works for them and when they graduate or in the summer they can continue to stay active and healthy doing something they enjoy," says Jones. Some ending and, encouraging notes Mr. Jones made was, "I expect a variety of students to join. It does not matter if you are Mr. Eastern Athlete of The Year or you trip every time you jog. Students should not worry about who else is in the class and instead focus on their own personal goals and growth. If you are unsure of your goal, I will help you out."
Although picking classes for the upcoming year is coming to an end, it's not too late to decide. If you picked classes you know you'll love and enjoy next year– why should gym be any different?