"The Couple Next Door" Shakes Up Readers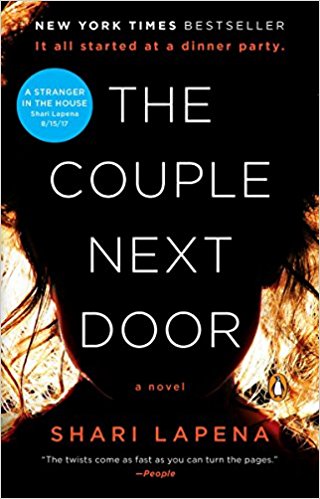 Hang on for a minute...we're trying to find some more stories you might like.
 The book, "The Couple Next Door" by Shari Lapena, is a thriller that will have readers grasping to turn to the next page.  As an avid reader and lover of thriller novels and movies, I can say that this mystery truly had me hooked from the first chapter.
  The story opens with a new mother, Anne, and her dashing husband, Marco, enjoying dinner in the home of their stylish neighbors.  Anne is uncomfortable leaving her baby alone in her crib next door, but is too drunk to have a more firm stance on it, while her husband is too busy flirting with the hostess to pay any mind to it.
  Ths initial hostility developing toward Marco, wills one to keep reading to witness Anne's humiliation as the night goes on.  However, soon humiliation turns to horror when the couple stumbles home to their ajar front door and an empty crib.
  From this point, the book speeds up into a twisted story told from varying perspectives desperately trying to unravel whatever happened to the couple's baby daughter, Cora. The author will draw your mind to consider the unthinkable, could a parent harm their own child?
  And despite the absurdness, you'll find yourself second guessing both Anne and Marco as just enough is revealed each chapter to change your mind yet again.  This ideal even carries out into your own head, beginning to make you wonder how well you really know the people closest to you, as you really only know what goes on in your own mind.  
 Having experience reading thrilling mysteries, like Nicholas Sparks' romantic yet twisted, Safe Haven, it is easy to tell when a book is captivating and told spectacularly compared to when one finds themself rereading the same page for twenty minutes, thinking about what's for dinner tonight.
  This book had completely the opposite effect; I found myself reading for a few hours, scraping the back cover for more, realizing the book had ended.  I was left wondering about Anne and Marco and if their marriage would proceed healthily.
 Overall the book was extremely well written and developed, only revealing information as you needed it and in the perfect quantities to keep you interested.  It was not a drag and ended at a great point, leaving the reader wanting more rather than feeling relieved that it is over. With that being said, I'd recommend this book to anyone who needs a great story to keep their attention, because there is no doubt in my mind that even the illiterate can enjoy this one!