Glitch in PowerSchool causes student "panic" over GPAs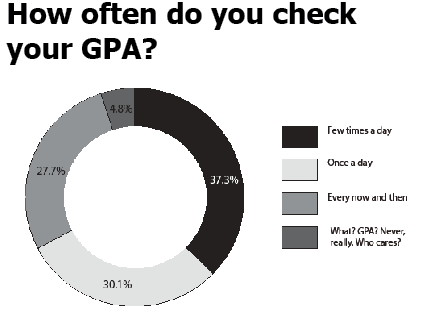 For a few panicked days, students opened up PowerSchool and could no longer view their GPAs. The GPAs were returned quickly, but it still left students confused as to why it first happened.
  "There was a lot of confusion," said Mr. Susko, the Supervisor of Guidance, "because students were coming down thinking that [the PowerSchool GPA] was their cumulative GPA" and other miscommunications. In truth, the GPA listed on PowerSchool is only representative of the current semester and is a live score, meaning that it updates whenever teachers put in new grades. To possibly prevent this confusion, the GPAs were taken down.
  The other reason that GPAs were temporarily disabled was due to a glitch in the system, resulting in some GPAs being calculated inaccurately. "Instead of having those GPAs out there incorrect, we wanted to take it down, see if we can work with it and fix it, and in the event that we can, we would consider putting it back up," said Mr. Susko.
GPAs are calculated by Eastern two times a year—after every semester—which are then uploaded to Naviance and are available to for all students to reference. Once they are calculated, they never change. However, besides PowerSchool, there is no other place to view your live GPA.
  "Some of the feedback we've received was that students were using it as a barometer as how they were doing," said Mr. Susko. Since there was a glitch, students may have been looking at the wrong number.
  And despite initial rumors, Mr. Susko confirmed that the removal of the GPAs was not implemented in order to remove competition from the school environment.
  Although GPAs are back to PowerSchool, many students expressed discontent over not being able to see them, even for a short period of time. "I was surprised when they took them off because I know that students are always checking their GPAs constantly," said senior Charine Leuterio. "I never thought they were a problem, so it didn't make sense to me that they would disable them.
  Students also stated that viewing their GPA was essential for their academic success. "Being able to see my GPA is most definitely beneficial to me as a student," said senior Brandon Goldstein. "My GPA allows me to know exactly where I stand grade-wise with no strings or fluff attached."
    "It was slightly bothersome when they removed them," said junior Pauline Maki. "My GPA keeps me updated and in line. It's really helpful because it gives me current status on my grades." She also stated that some people have a routine, and checking their GPA is included in that, so the removal of the GPA could throw students off.
  However, some students do not necessarily agree. "It's nice to see how I'm doing each semester, but because it's not reflective of my overall cumulative GPA, I don't find it all that helpful," said senior Alexa Grabelle.
  With PowerSchool, a constantly changing GPA could cause stress in a student, but according to Goldstein, he views that stress as an asset rather than a liability. "We need to learn to address our stress now or we will end up like the 42% of adults who say that they are not doing enough or are not sure whether they are doing enough to manage their stress," he stated, citing a 2014 study by the American Psychological Association. Maki agreed, saying that the stress pushes her to do better.
  "Yes, my GPA causes me stress," said Leuterio, "but all grades cause me stress. Even though I don't like seeing it, I need it to make sure I'm doing well in school."
  As most students take their GPA seriously at Eastern, the concern caused by the removal was taken into consideration by the administration, as Mr. Susko said that they were accepting and considering all feedback that they received. Whether or not GPAs are truly useful in helping a student succeed, they are clearly an important part in Eastern's academic culture, and their return to PowerSchool has caused many to sigh in relief, and move on with their day.
Students on GPA
Last year, I realized I was stressing too much about GPA (thus causing me to lose focus on my love for learning). This year, I do not check my GPA (I have checked it once this year). I have greatly lowered my stress level in regards to school and have opened my life up to more opportunities and happiness. I am very happy with my choices to do so. My love and passion for learning has only grown with my decision to not stress about my grades.– Bryce Dershem '21
I think I'm speaking for everybody that when they see 0.250 drop off their gpa they get extremely concerned and often ask questions like: "Oh my goodness, what did I do wrong?" "Oh no please don't tell me my AP Chem grade dropped!" "No no no no no! What happened!" It's no surprise that we are all very attentitive when it comes to our grades and when we can't see an overall performance score on all of the hard work we have been putting in, it's kind of irritating. – Aryan Chaudhari '20
In my opinion, removing the GPA from PowerSchool accomplished nothing. Sure, unfavorable grades may be discouraging, but they can also be used as motivation to improve. If looking at your GPA upsets you, removing that function from PowerSchool is not the solution. Instead, you could either stop using PowerSchool (the purpose of which is to show you your grades) or get studying and fix it. Not to mention we were still able to see our individual grades, which would mirror our GPA's status. – Jeremy Bender '20
I check my GPA all the time as a mark to see whether any grades went down. It's easier to look at my GPA instead of checking individual classes first to see if my grades change. I check it more than I should. No one is putting grades in on Saturday night at 11:00. It became a bad habit. I sometimes stress over it.   – Jessica Bonamassa '19
Leave a Comment