Short-e-torials for January
Staff writers and editors weigh on what's been happening in the news for January.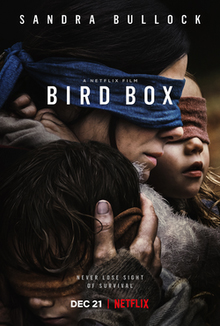 Hang on for a minute...we're trying to find some more stories you might like.
Stop the Bird Box challenge
By LAUREN CASOLE '19
Editor-in-Chief
The Netflix movie "Bird Box" has drawn a lot of attention to itself and a challenge based off its plot was created. People have been trying to complete everyday tasks blindfolded like Sandra Bullock's character in the movie.
What started out as participants videoing themselves trying to find their way around their house or eating lunch has evolved into people running into walls and out into traffic.
YouTuber Jake Paul decided to take the challenge to a whole new level and drive blindfolded down the streets of LA. He also ran into oncoming traffic blindfolded and Netflix issued a tweet saying, "Can't believe I have to say this, but: PLEASE DO NOT HURT YOURSELVES WITH THIS BIRD BOX CHALLENGE. We don't know how this started, and we appreciate the love, but Boy and Girl have just one wish for 2019 and it is that you not end up in the hospital due to memes."
It's crazy how people can take something so simple and blow it out of proportion. These "Bird Box" extremists are putting people in danger simply to be funny and it needs to stop.
Abuse of musicians not okay
By AVA HANCOCK  '20
Opinion Editor
Just a few days into the new year, Post Malone wrote a concerning tweet regarding the pressure on him to get new music out. It seemed like a cry for help, saying "I'm trying my best here. That's all I can do."
A few days later, another rapper, Cupcakke, tweeted that she was about to commit suicide. She was thankfully located and taken to the hospital and is okay. Though she didn't give any further information about her tweet, it can be assumed that her mental health was being affected by pressure in the music industry.
These two situations raise concern about the mental stability of musicians and how much stress they are put under since they are constantly in the public eye.
There is a long history of suicides, overdoses, and mental breakdowns of artists. And though the tweets and comments from fans to singers about when they are going to release new projects is usually all in good fun, we should also recognize the burden this puts on them.
It would probably be a good idea to offer some understanding to these hardworking people and rather than cutting their careers (and possibly lives) short, help them grow and give them proper time to do their jobs.
Is there a line that "memes" can cross?
By EVELYN STEELE '21
Staff Reporter '21
    After a long day of sitting at a desk, listening to teachers lecture or completing quizzes and tests, most teenage high school students will return to their homes to sit in their rooms, listening to youtubers lecture or complete Buzzfeed quizzes and tests.
Our cellphones are constantly with us–in the classroom, at the dinner table and in extreme cases, the bathroom. The constantly clicking on our phones has us looking at mindless videos and memes we never thought we would.
A mindless meme about relationships, school, family makes us chuckle or blow air out our noses, but is there a line to cross?
Memes are simply out there to make us laugh, but what's funny about The Holocaust or the Queen of England dying on January 5th 2019?
Social media has blown up with many different types of memes over the months, some winners being, Jo Jo Sewa, moths, the yodeling boy, baby shark, and more to come. These winners consist of funny images that make us laugh and scroll on but memes that are centered on the life Queen Elizabeth?
Doesn't laughing at The Queen sipping tea that could contain deathly substances make us heartless? Teenagers scroll past memes that contain topics like autism and suicide and send them to friends, press the like button, and comment, making these images blow up.
Memes are a large part of today's culture and laughing at them is a large part of our days but laughing at death? Is that really how we want to spend our afternoons?
What do you REALLY know about global warming?
By CYNTHIA MEAS '21
Art Editor
This time of year is supposed to be the coldest, however haven't you caught how warm some days really are? Global warming is alive and thriving, and it's here to stay unless we do something to counteract the destruction of our planet.
According to NASA Earth Observatory, our earth has increased by 1.4° Fahrenheit since the 1880s. Due to our use of fossil fuels and pollution, this is specifically explained by the Greenhouse effect, where pollution can take the form of carbon dioxide or sulfur dioxide, which are warming the planet through the greenhouse effect.
What can you do about it? You may think it's a big step, however it's as simple as replacing one regular light bulb with a compact fluorescent light bulb, drive less, use less hot water, plant a tree, or even just recycle.
You might ask, "If it's so easy to avoid global warming, why do we still have this problem?" It's hard for the entire world to agree on a common goal let alone act on it all together. Advocating global warming and its solutions could not only save our planet but also save our energy as well. There is also the habit that is hard for our world to break off like avoiding using gas and polluting, it runs through our bloodstreams and it's stemmed from laziness.
Our world is the only one we have and need to try and reserve not for us, but for future generations. There's nothing else like our Earth so advocate, volunteer, and challenge yourself for the sake of humankind.
Treat all humans with kindness and care
By OLIVIA COVINTON '19
News Editor
Eight year old migrant boy Felipe Gomez dies early Christmas day in U.S Border Control from illness early Christmas Day. As we all know border control and immigration is a hot and touchy subject in America, and it continues to heat up as the news of the death of a child in U.S Border Patrol custody. Felipe was originally diagnosed with a common cold and was prescribed antibiotics and released, but his condition quickly diminished and he was transferred to Gerald Champion Regional Medical Center in Alamogordo, New Mexico. He died early Christmas day. He is the second child to die in border control in December. It has to make you wonder if the conditions immigrants are held in are suffice enough for healthy living, and does it matter to the government. Although they may be trying to cross illegally (to escape their harrowing situations), does that mean we treat them less humanely?
Republican Senator Romney writes op-ed against Trump
By Haley Allsebrook '20
News Editor
Last Tuesday evening, Republican National Committee Chairwoman Ronna McDaniel received a phone call from her uncle, Mitt Romney, saying that he was going to publish an op-ed firing on President Trump in the Washington Post.
Romney became increasingly frustrated with trump's Syrian troop withdrawal and was angry with the resignation of defense secretary James Mattis. So even though he knew the editorial would fire up the media, he still decided to publish the op-ed anyway. People became suspicious that in the upcoming 2020 election, Romney had planned to challenge trump and compete against him in his own republican party for reelection which hasn't happened since 1992 against president George H.W. Bush and Pat Buchanan.
One thing that Romney stated in his op-ed was that Trump "has not risen to the mantle of the office." Romney denies wanting to run for president or against trump. Even if the competition is not Romney, trump aides are concerned that a primary challenge would be an uninvited distraction for the reelection and could make the GOP Convention a "circus."