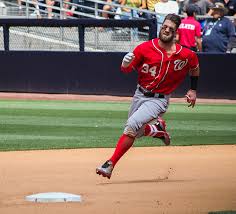 After 117 days of waiting, it finally happened.
Bryce Harper signed a mega-deal with the Phillies at 2:50pm on February 28th. 13 years for 330 million dollars. And best of all: no opt-out clause. Phillies fans rejoiced around the world.
It was a roller coaster ride. Earlier in the offseason, Phillies owner John Middleton told everyone that the Phillies would spend "stupid money" if needed. People expected them to either ink Harper or All-Star infielder Manny
Machado. But they didn't expect their decisions to come in February, during MLB's Spring Training.
 On February 20th, Machado signed a 10 year, 300 million dollar deal with the Padres. All eyes now turned to Harper.
 Throughout the offseason, the Phillies were favorites to sign the superstar, but reports started to go in a different direction. The Dodgers, Giants, and Padres were all reported to be in the mix for Harper. And on February 27th, it just seemed like Bryce would choose to take his baseball talents to Los Angeles.
 So, it came as a shock to see, MLB Network insider Jon Heyman tweet, "Breaking: Bryce to Phillies."
 At that point, I'm sure thousands of Phillies jumped up and down, screamed at the top of their lungs, and maybe even cried. The Bryce Harper saga was finally over.
The outfielder will now play home games (81) at Citizens Bank Park, where he raked when he was a National. Harper has a lifetime .268 batting average, with 14 home runs, 32 runs batted in, and 33 runs scored in all of his plate appearances at CBP. Project that over 81 games and we may be talking historic numbers.
 This Phillies offseason has been one of their best. They have signed outfielder and 2013 NL MVP Andrew McCutchen and relief pitcher David Robertson.They also traded for All-Star infielder Jean Segura and All-Star catcher J.T. Realmuto. The Harper signing for the Phillies seems like a cherry on top.
 Harper will now spend the rest of his career in Philadelphia. He might even enter the Hall of Fame in Phillies pinstripes.
 Bryce is the star the Phillies were looking for. Fans have been eager for another "Red October" and Harper can lead this team to their first playoff berth since 2011.
There are good things to come for the Phillies and their focus will now be on the World Series.