On the stage with Destra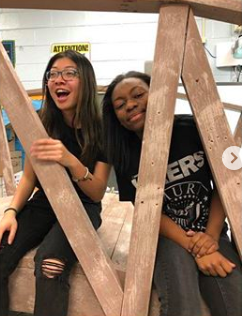 "I wasn't actually planning on joining theater but my two best friends at the time were going to join stage crew and I had nothing else to do, so why not!" said sophomore stage crew member, Julia Destra with a gleaming smile on her face. "Although, you have to be really committed to it, because it does take a lot of time out of one's day."
Destra has been in stage crew since freshman year, participating in the plays, Rock of Ages (Spring 2018), A Few Good Men (Fall 2018) and the current play, The Music Man.
Even though this club is very hands on, it also takes a lot of communication and management. It can be difficult to balance social, academics, and clubs, but she manages. In academics, she is thriving with honors and AP classes.
"Although it can be stressing, it's worth it in the end because of how supportive and kind and funny the people there are." Destra said.
For her, she typically goes to stage crew once or twice a week. As the show approaches, she goes almost every day of the week from 3-6, and at some nights 3-9.
With many different tools and materials, there are several combinations of accidents. Drills, saws, and other tools take extra awareness and precaution while working. Destra even admits to being frustrated with the measurements and the placement of the screws on the props.
Destra has made stage crew part of her daily life. It takes a huge amount of time and dedication to make these sets that the actors and actresses perform on.
However, it's not just her hands that keep her going but her environment. "I work with people who are hardworking, but also know when you need to chill." Destra said. "I was really stressed one day and the people there were really supportive and told me to take a break and gave me hugs, knowing I needed some comfort."