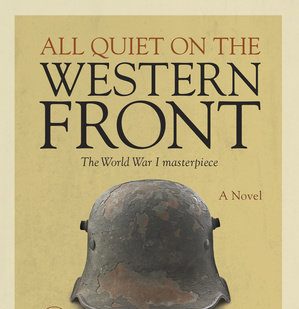 Penguin Random House
Erich Maria Remarque served in World War One for his home nation of Germany, after being conscripted to the army at age 18. At 19, in 1917, he was wounded by shrapnel in the leg, arm, and neck, and would spend the rest of the war recovering from his wounds. This experience would influence his career-defining work, 1929's All Quiet on the Western Front, a book so anti-war that Hitler burned it during his rule of Nazi Germany.
  Remarque began writing the novel in 1927, but couldn't find a publisher until the next year, when the novel was serialized in the German newspaper Vossische Zeitung. Remarque's third novel was published in book form on January 29, 1929, and was so successful (it sold 1,500,000 copies in 1929 alone) and well-known that it inspired a 1930 movie adaptation of the same name that won an Oscar.
  All Quiet on the Western Front follows Paul Bäumer, a nineteen-year-old man who volunteered for service in the German Army, throughout World War I. Bäumer enlisted with three of his best friends (Albert Kropp, Freidrich Müller, and Peter Leer) on the suggestion of their military schoolmaster, Kantorek. They thought, like most Germans, that the war would be over early. However, through constant artillery barrages from the enemy and horrible trench conditions, they find that war isn't all fun and games. 
  The war not only kills many of Bäumer's friends from school and his platoon, it takes a massive toll on his mental health. The soldiers who were sent onto the front lines as teenagers, like Paul, quickly lost their innocence. 
  "We are not youth any longer. We don't want to take the world by storm. We are fleeing. We fly from ourselves. From our life. We were eighteen and had begun to love life and the world; and we had to shoot it to pieces," Paul laments.
  Remarque goes to great lengths discussing the graphic and bloody nature of war. 
  "Here hang bits of uniform, and somewhere else is plastered a bloody mess that was once a human limb. Over there lies a body with nothing but a piece of the underpants on one leg and a collar of the tunic around its neck… both arms are missing as though they have been pulled out." 
  Remarque also touches on what many consider to be the "Lost Generation": the generation of children and teenagers that came of age during the first World War. The foreword to the story states that the book "will simply try to tell of a generation of men who, even though they may have escaped its shells, were destroyed by the war."
  All Quiet on the Western Front was a smash hit, and discussed how, especially when Bäumer kills an enemy soldier, some just blindly follow the directions of people at the top with no real moral conscience. Yes, Bäumer immediately regrets killing the French soldier, but these were two men sent to war because they were told to hate the other side without really knowing them. 
  That philosophy is still present today when looking at American political divisions. Republicans and Democrats hate each other because of hateful rhetoric spewn on TV, when they don't really know the other side. Hell, they could even be neighbors for all we know. 
  Remarque's classic is a book that can be a bit too graphic, but is so descriptive that it's hard to put down. All Quiet on the Western Front is a gripping story of the horrors of war, and is rightly considered a classic.