Music department concerned with trends
There may be more to the issues than meets the eye
Worry is beginning to fester within Eastern's Music Department.
No, there are no sudden changes in personnel or concerns about the quality of the program
– rather, students and staff are feeling concerned over the total number of students
enrolled in the instrumental music program.
According to one music department teacher,
there is a trend. "We've been seeing less and less involvement," he said.
But what is the root cause? There has, in fact, been a downward trend in instrumental
music participation.
The number of students enrolled in instrumental music is down almost
ten percent since 2001. While this may not seem like a particularly
significant figure, in a department of under one-hundred and fifty students, this is a decent
chunk of the population. Students have noted this downward trend
as well. Senior David Sung said the numbers seem to be "going down."
David Sung indicated that a few other factors may also be contributing to decline in
the music programs.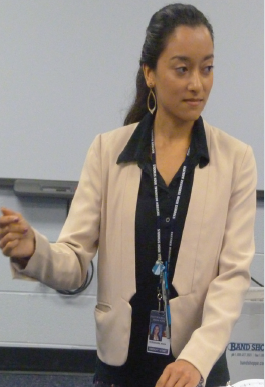 Citing changing tastes, "there may be a lack of interest in [instrumental]
music" within the youth population. Upon students noticing a curtailed student
presence within the program, it is clear that people begin to speculate on why these issues
may be occurring. According to Cherry Hill East music teacher
Mr. Tim Keleher, Eastern may be "encountering challenges with the regional [school
district] system." Having a township district in Cherry Hill has allowed for a much more
homogenous program, as staff and students can easily move between schools. Additionally,
programs such as an All Cherry Hill honors band program that takes in students
from the town from all grade levels, creating a sense of community at an earlier level, and
potentially increasing interest in younger students.
Additionally, music staff and students from Cherry Hill's high schools make trips to the
three middle schools, like Eastern.
Eastern has been taking steps to improve
the networking between high school and sending district music programs, such as
middle school visitations to the high school "I think we've been very fortunate with the
support we've gotten [from the sending districts]," said Mr. Young, Music Department
Supervisor. Just this year, a number of Voorhees Middle School music students came to Eastern
in for a tour of the music facilities and even to perform alongside the high school's ensemble.
This move aims at increasing interest and involvement for these younger
students down the road.
Regardless of communication between programs, the primary culprit in the eyes
of some music students seems to be the actual music program at Voorhees Middle School, the largest feeder district to the Eastern Camden County Regional School
District. "It is not a good program," said junior Sean Hewlett, citing a negative experience
in the middle school.
However, Junior Andrew Kumar said that it was a
fi ne program. "They did a good job," he said. Also important to mention is the nature
of the pullout program, in which students are "pulled out" of classes in order to attend
music lessons a few days a week, and are then subjugated to an after-school
rehearsal.
This system is also used in the significantly smaller feeder districts of
Berlin Boro and Gibbsboro. "There is a drop off between sixth and seventh grades because of changing teachers," said one source who wishes to be kept anonymous.
Interestingly, Dr. Diane Young (Assistant Superintendent and former Voorhees Middle School Principal from 2012-2014, no relation to Mr. Young) says that this claim may be somewhat
unfounded.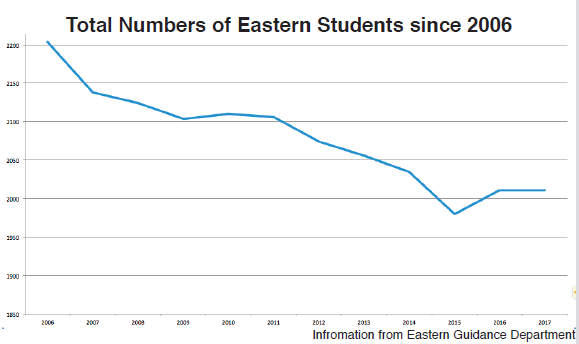 Dr. Young and the Voorhees Township administration has looked
into population tr
ends within the K-8 district's instrumental music program.
"I have looked at the numbers," Dr. Young said, "And if you look at our
whole [student body] population, it is in a significant decline, but I do not see the
same decline in the music program." Dr. Young explained that any drops in the music program have simply been in accord with general district population loss, and that there is no noticeable drop from one grade to another. "At one time," Dr. Young pointed out, "[the district] could not hire enough teachers," but now, the district has been taking measures such as not replacing retirees. This occurred in the Voorhees Middle School health program, which has gone from four to three full time instructors. It is possible that the district is starting to catch up to this stagnation of population.
Voorhees township has gone from nearly doubling its population from the 1980 to
1990 census, to only growing about four percent from 2000 to 2010. It is these population issues that seem to be contributing to the higher level concerns over the music departments. "We have a thriving program here," Dr. Young said about the middle school's department, "[and] it is important that we dispel these rumors."  
Eastern's population itself has declined
steadily in the past ten or so years, with the average number of students being
down from by two hundred students since student population peaks in 2005-2006.
According to the data, it seems that the problem with the music program may
not be with participation itself; rather the issue may simply be decreasing populations
showing themselves. In a smaller department like music, it is clear that the
loss of a few students has a significantly greater impact.
Administrators, like Music Department supervisor Mr. Young, have stressed pride in the quality of work that the instrumental music program has put forth in recent years. "We are very happy with our [music] programs," Mr. Young said. "That is a direct result of the preparation they are
getting, and really the cooperation between us and our sending districts."
Mr. Young, in noting the new schedule implemented in 2016-2017, said we're
going to have to wait to see how students use their extra elective.
"Certainly we are excited to see what the new schedule brings," he said, "not only with our
ensembles but with our entire music program."