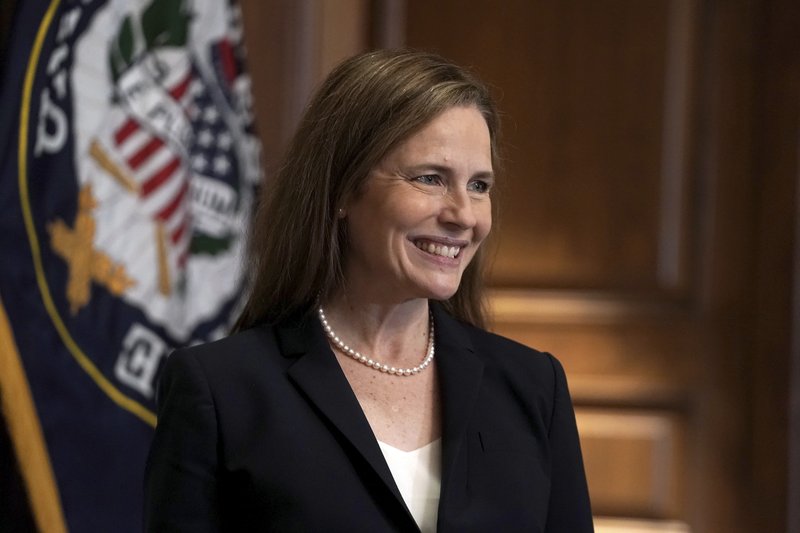 apnews.com
The recent passing of iconic Supreme Court justice Ruth Bader Ginsburg leaves a gaping hole on the SCOTUS bench, but the President in his infinite wisdom already has a justice in mind to replace the legend that was RBG: Amy Coney Barrett. 
 Barrett, of course, would be conservative leaning (joining justices Clarence Thomas, Brett Kavanagh, Neil Gorsuch, Samuel Alito, and Chief Justice John Roberts), and would be the sixth conservative justice if appointed, which will likely happen. 
 She was appointed by President Trump to a federal appeals court in 2017, and was confirmed by a vote of 55-43 after a testy Senate Judiciary Committee hearing during which Senator Dianne Feinstein famously remarked "the dogma lives inside you" in reference to Barrett's pretty intense Catholic beliefs (due to them, she's pro-life and against the death penalty as well as against LGBTQ rights and same sex marriage). She's a favorite of the religious right due to this and previously clerked under the late Antonin Scalia. 
 The controversy over her appointment is that she's likely to finally give the Republicans the conservative majority they need to overturn both Roe v. Wade and Obamacare. She's part of a religious group that might have been the inspiration for Margaret Atwood's The Handmaid's Tale (which has also been known for being anti-LGBTQ), and many fear that Barrett will be the opposite of RBG; someone who will close the doors that Ginsburg smashed open.
 The Senate hearings over her appointing to the Supreme Court begin on October 12. They shouldn't be happening at all. 
 On her deathbed, RBG asked that her replacement not be confirmed until after the 2020 election. The President of course ignored that and offered the open spot to Barrett less than 72 hours after Ginsburg's death, which is downright disrespectful to RBG. There's been justifiable pushback over this as many Democrats feel that there should not be a new justice named while Republicans are looking to push this through. 
 There's major hypocrisy from many Republicans on this issue. In 2016, then-President Obama nominated Merrick Garland to fill Scalia's seat on the SCOTUS after his passing. Many Republicans, including Senate majority leader Mitch McConnell, were vehemently calling for Scalia's seat to be filled after the election (mostly because Garland was a liberal justice who would've tilted the Supreme Court in that direction). Republicans also refused to hold hearings over Garland's nomination, letting his formal nomination expire in January 2017 which allowed Trump to nominate a conservative justice (Neil Gorsuch) to the SCOTUS bench. 
 Now with recent events her confirmation might not even happen.
 The gathering at the White House to nominate Barrett has now become a superspreading event, as not only did the President test positive for COVID, but two high-ranking members of the Senate Judiciary Committee (both Republicans; those being Mike Lee and Thom Tillis) were found to have the coronavirus as well. McConnell is still trying to fast-track the confirmation process and hold those hearings on the 12th but the three positive cases (Senator Ron Johnson, a Republican, tested positive as well) as well as 3 more Republican senators quarantining after possible COVID exposure threaten to derail this schedule. 
 It's extremely unfortunate that these senators have tested positive for COVID-19 but the attempt to fast-track the confirmation process was wrong and things have gone awfully awry for the Republicans in this scenario. The Senate Judiciary Committee really should've heeded RBG's deathbed request out of respect for the legendary justice. I'm sure she's shaking her head in disgust while looking down at us right now.