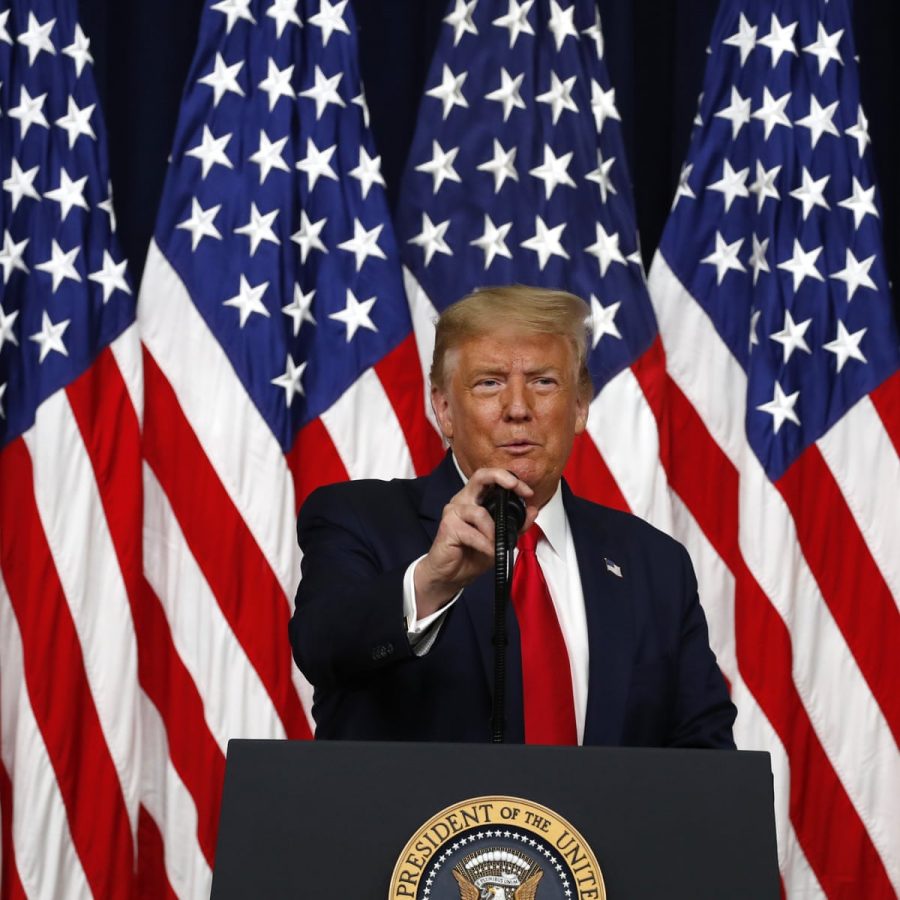 Alex Brandon/AP
I have found undeniable proof that time travel exists.
  There's no other way to explain the shocking relevance of Abraham Lincoln's 1838 address before the Young Men's Lyceum in Springfield, Illinois. Twenty-eight years old at the time, he discussed the nation's political institutions, the burning debate over slavery and perhaps most notably, the preservation of American democracy. In the face of power-hungry tyrants, Lincoln stressed the importance of protecting our country's freedom.
  Fast-forward nearly 200 years, and we currently find American democracy under siege by one of these power-hungry tyrants; our POTUS and commander-in-chief, Donald Trump.
  Following a highly-contested 2020 election between incumbent President Trump and his challenger, former Vice President Joe Biden, a winner was announced on November 7th.
  I can clearly remember the day; my family and I were packed into the living room of our shore house in Avalon, NJ. Gusting and howling winds just outside the door reflected the nationwide sentiments of the previous five days: tension, angst and dread.
  All of a sudden, longtime CNN reporter Wolf Blitzer appeared with breaking news. Joseph R. Biden Jr. was now projected to win the election, and become president-elect of the United States, after his narrow lead in Pennsylvania was cemented.
  Across the nation, people of all genders, races, shapes and sizes poured into the streets in celebration. In cities such as Philadelphia and New York, the sea of people became so massive that the street itself was no longer visible. After four tense years of a Trump-led nation, Biden was going to bring change and reform, as well as relief for the COVID-19 pandemic.
  However, anyone could have told you that Trump did not have these plans on his agenda. Losing is simply not a part of his DNA. Before pursuing the office of the presidency, he built his entire life upon persuasion, manipulation and greed—all qualities that have become quite evident through his post-election attitude.
  Right from the moment Blitzer uttered the words "president-elect," Trump knew exactly what he was going to do. In a desperate attempt to sway the results, he claimed that there was widespread voter fraud throughout the election process, while also discrediting the authenticity of mail-in ballots. He demanded vote recounts in key states such as Arizona and Georgia, with both states ultimately remaining blue.
  Trump and his campaign are making these baseless claims without any evidence to back them up, as there has been no proof of any vote tampering or corruption in the election. In fact, the Cybersecurity and Infrastructure Security Agency in the Department of Homeland Security deemed the 2020 election "the most secure in American history." President Trump could not handle such heresy, firing respected director Chris Krebs in response.
  As more and more signs point to a Biden inauguration on January 21st, Trump refuses to accept defeat, which is a worrisome development. Each passing day of purgatory is a day that further divides our nation, and complicates the road ahead for Biden's staff. Because the General Services Administration has not accepted Biden's victory yet, ten-million dollars of federal transition funds are being withheld from use by the president-elect.
  Right now, what our country needs is an admission of defeat from Trump, which would help to bring everyone back on the same page and working together to support Biden, the upcoming 46th President of the United States. The sooner Trump steps aside from his denial, the easier things will be for all of us.
  To deny the outcome of a presidential election is to undermine democracy, which is the very foundation of our nation. All the way back in 1838, Lincoln warned us that tyrants such as Trump may attempt this—politicians who may not strive to preserve, protect and defend the Constitution of the United States.
  "And when such a one does, it will require the people to be united with each other, attached to the government and laws, and generally intelligent, to successfully frustrate his designs."