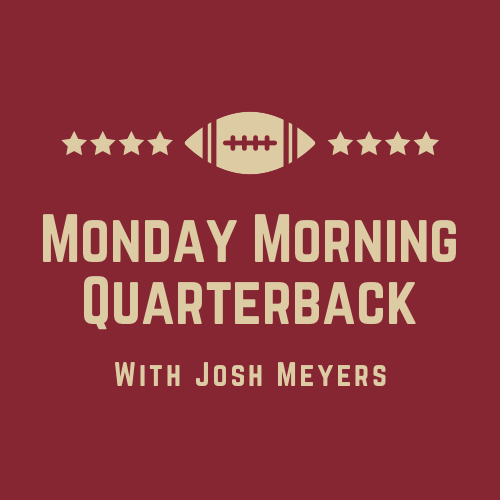 Josh Meyers
  If there is anything that this 2020 season of football has told us, it's that the Eagles are just a bad football team.
  Just three years and a half years  ago, the Eagles had won the Super Bowl and coach Doug Pederson promised that we would see plenty more championships in our futures. But Pederson has come up short with that promise.
  After the big win, Pederson followed it up with two mediocre 9-7 seasons and first and second round exits. This year, it's much worse as the Eagles are 3-8-1.
  Everything has gone wrong and you could say it starts with the head coach. The offense has been struggling immensely and the play calls are just not working. You would think that after knowing the Eagles record, Doug would change up his strategy, But no, he keeps trotting out quarterback Carson Wentz and the atrocious offensive line.
  Don't get me started on the o-line.
  Injuries to Lane Johnson, Brandon Brooks, and plenty more have hurt the o-line. But the replacements to them have not done their jobs. They've allowed the defense to bull through them plenty of times, pressuring Wentz every chance they get. This causes Went to get sacked and lose yards, miss his receivers by miles, or throw an interception or cause or fumble. 
  Turnovers have been a problem for Wentz this year. He has fifteen interceptions, ten fumbles (only four lost), and has a passer rating of 72.8 which is not good at all. Yes, the o-line's struggles have been a huge factor in Wentz's bad play, however the blame could also be put on Wentz. 
  Throughout his career, Wentz has always tried to play "hero ball" which is when he tries to keep a play alive to make an amazing play, even at any cost. And those costs have been turnovers, especially this year as Wentz leads all quarterbacks in that category and has more turnovers then some teams this year alone. 
  In last year's draft, the Eagles drafted rookie QB Jalen Hurts in the second round. It was a head scratcher of a pick as the Eagles had just signed Wentz to a long contract the year before and the Eagles had a lot more needs in the draft.
  The presence of Hurts has definitely effected Wentz's play. Now, many Eagles fans are calling for Hurts to replace Wentz.
  In week 13 against the Packers, Wentz was yet again struggling, prompting the Eagles to bring in Hurts. Hurts came in to throw 109 yards and a pretty touchdown pass. Hurts had already surpassed Wentz's passing yard total through three quarters  in one quarter.
  The Eagles have themselves to blame for creating the QB controversy in Philly. General manager Howie Roseman, who has shown to not be the best drafter, did not need to draft that position, but did and gradually lost the confidence of Wentz and the fan's confidence in Wentz. If the Eagles had not drafted Hurts, fans would instead be calling for Wentz to get a better team around him, not for him to be benched.
  On the defensive side of the ball in week 13, the Eagles secondary once again got carved, this time by future hall of famer Aaron Rodgers. The defensive struggles have been overshadowed by the offensive struggles, however it is worth noting that the Eagles cornerbacks and linebackers have been basically non existent throughout this year. Defensive coordinator Jim Schwartz has not impressed at all. Frankly, Schwartz hasn't been impressive since the 2017 season. However, this lack of defensive success could again fall on Howie Roseman's shoulders as he did not evaluate talent enough in free agency's past.
  It's been a frustrating year for the Eagles. In the worst division in football, the Eagles have been one of the NFC East's worst teams. At this point, I'm personally hoping the Eagles keep losing to get a better draft pick in next year's draft.
  Changes are to be made. Whether it is Pederson or Roseman, a change has to be made.