A Return to Remember
The return to school was highly anticipated, but where are we now, two and a half months later?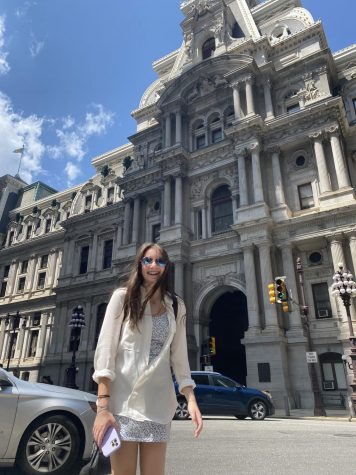 More stories from Leah Snyderman
  After 18 long months of Zoom classes and hybrid schedules, Eastern opened their doors for a hopefully full, in-person year back in September. With the student population reaching over 2,000 for the first time in a few years, new challenges of returning were brought on.
  Under NJ guidelines, no remote learning option is offered this year. The return to school was highly anticipated, but where are we now, two and a half months later?
  So far, Eastern has tracked 45 positive cases, 7 staff members, and 38 students. This has caused over 105 students and 5 staff members to be quarantined. The week of September 20th to September 24th had the highest number of quarantined students at 23. 
  Principal Dr. Robert Tull described these past 18 months in one word: adjustments. There were constant changes being made, and these haven't stopped yet. They're ongoing.
  "We've had to plan for what we believed was normal, and then adapt it to our governing body, the Camden County Health Department," Dr. Tull said. 
   School reopened this year with a notable new plan for lunch. The pre-COVID Lunch and Learn schedule where students were able to take an hour to eat, go to office hours with teachers, and attend club meetings was replaced with a Split Lunch schedule. Under this schedule, students either had Lunch A or B, depending on the location of their Period 4 class, meaning with the rotating schedule in place, this changed every day. 
  "This more restrictive schedule was just to try and get everyone acclimated to school," Dr. Tull said.
  As quickly as the Split Lunch schedule was introduced, it was adjusted once again. The current schedule is very similar to the pre-COVID Lunch and Learn, but this time students must pick a location and stay in it for all of Lunch A or B, with a six minute passing period in between for students to move if they choose to. From an administrative standpoint, this was put in place to help regulate student behavior.
  "There was no guidance or structure for that period of time, so people are coming in with their own way of thinking. We had to get them to understand what school is like again," Dr. Tull said. 
  A big fear with the return to school was the experience levels of the current students. The senior Class of 2022 is the only grade to have experienced a full, "normal" year at Eastern. The current juniors only had seven months of this, and the sophomores and freshman had none. 
  There is a standard of expectations in academic work at Eastern, so administrators and teachers were worried about the little to no experience of the students. Before these expectations could be met, though, safety needed to be ensured.
  "If you don't have safety, learning can't go on," Dr. Tull said.
  In order to protect students from COVID-19, Eastern is following the guidelines set by the NJ Department of Health and the Camden County Health Department. As of now, there's no vaccine requirement for students. All staff must either be vaccinated or be tested weekly.  
  Eastern has held many opportunities for those eligible to get vaccinated, most recently hosting a vaccination site in the 500 cafeteria on October 26, November 11, and an upcoming one November 23. No appointment is needed for these, and first doses, second doses, boosters, and flu shots are available.
  Also to ensure safety, under new guidelines set by the NJ Department of Health, Eastern is partnering with local pharmacy Bell Rexall Pharmacy with ProPhase Labs (BELL) to provide on-campus testing. Parents can register their kids for voluntary rotation screening testing. This is a strategy to help identify asymptomatic infections, and the cost-free testing is available to all students, no matter their vaccination status. 
  As Eastern continues to navigate changing guidelines, staff and students are just grateful to be back to a new type of "normal." 
  "I'm proud of the resilience the teachers have shown and the responsiveness to change of the students these past two months," Dr. Tull said. 
  Dr. Tull has hopes for the mask mandate being lifted by the end of the year, but until then, he will continue to smile at students through his mask as they pass by him during passing periods.
Leave a Comment