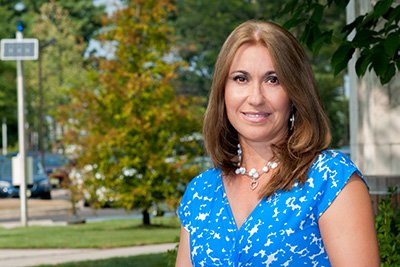 Supplied by Sara Reina-Nieves
 Mrs. Reina is one of Eastern's most remarkable Spanish teachers. She has been teaching at Eastern for 25 years, and plans to retire after the 2021-2022 school year.
   "Throughout all these years, I have had amazing and positive experiences as well as experiences that teach and force growth and self-development. Overall, I am very proud to have been part of the Eastern community," she said Reina when asked about her time at Eastern. "The support from my colleagues and my supervisor added to the respect and love from my students, equals rewarding and unforgettable memories that will always be part of me."
   After retiring from Eastern, Reina plans to spend more time with family and friends, teach Spanish, make creative projects, and pursue her passions. Although she loves her job at Eastern, Reina will enjoy having some extra free time.
   Outside of the classroom, Reina makes many stunning creative projects, but one that really stands out is plarn. Plarn is yarn made out of plastic bags, which Reina uses to make plastic bags and blankets for the homeless. Inspired by an online article, she  immediately started researching practical ways to use it and help in the community. 
   "Making plarn [is] about being creative, as well as reusing and repurposing items that could otherwise negatively impact our environment," she said. 
   She delivers these blankets and bags to Philadelphia, which has a homeless population of over 6,000 according to projecthome.org. She originally joined a group of volunteers in Pennsylvania to deliver these bags and blankets to those in need, but soon found that it was a much better use of her time to do it by herself.
   St Joseph's House in Camden is a great place nearby for those who want to be like Mrs. Reina, and help the homeless in the community.  They accept donations and also look for volunteers.
   Volunteers at St Joseph's House assist in the kitchen, help, greet, entertain, and generally bring joy to those in the shelter. St Joseph's House has volunteer hours from 9:00am to 2:00pm daily, as well as serving breakfast from 5:30am to 6:30am, and dinner from 8pm to9:30pm. For more information on volunteering at St Joseph's House, contact [email protected].
   So, after reading this article, take some time to research ways to help in your community. Whether it's making plarn, or volunteering at local shelters, you can surely make a difference!