The Phillies are World Series Bound!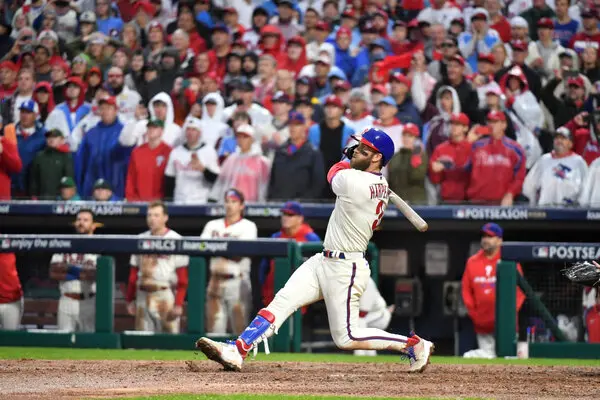 For the first time in recent memory for Gen Z, the Philadelphia Phillies are going to the World Series. The Phillies defeated the Padres Sunday night in game 5 of the National League Championship Series (NLCS) to send their destiny team further than anyone could've expected. 
  Coming into the Postseason the Phillies had the lowest chances of seeing the end of October on the diamond, but this was no coincidence. Philly stars have stepped up, finally playing like they want to win. 
  Bryce Harper won NLCS MVP Sunday night with his performance worth 330 million dollars, hitting .400 with 2 homeruns, 5 RBI's, and a 1.250 on base percentage. Harper is looking like the superstar he is bound to be. Harper isn't the only bat getting hot during October, Outfielder Kyle Schwarber has been waiting for this moment ever since he was traded to Philly. 
  Schwarber, who was traded to Philadelphia over the last offseason, says he's never had such an electric postseason experience and he is definitely showing it. With 6 RBI's and 3 home runs he's been a work horse in the Phillies offense. 
  Most likely to earn credit to his success in recent series would be Schwarbfest, a promotion running at Wawa, in June during this promotion Schwarber hit 15 home runs in a 21 game stretch. 
  These lethal hitters can easily beat The Houston Astros who have been to the World Series 4 times in the last 6 years and haven't missed the playoffs in almost a decade. A tough matchup for a team who used a free trial to get into the postseason, only having 87 wins this season the Phillies have upset all 3 teams they have faced. 
  As they look to upset October, manager Rob Thomson has his eyes set up on the pitching matchups in the incoming days. Game 1 looks to be Justin Verlander v. Aaron Nola, with two of the hottest pitchers in baseball this looks like a pitchers duel is inevitable. 
  The Phillies have defied the odds three times this October and look to make it four upsets during their postseason. The Phillies will fight in Houston in hope to take home The Commissioner's Trophy. Vegas is betting against Philly, that is a mistake which Bryce Harper and The Phillies will see to themselves.
Leave a Comment