Eagles Soaring Into the Christmas Season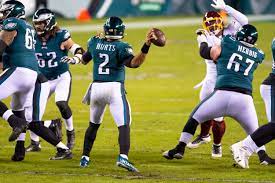 In 1993, Philly native R&B group, Boyz II Men, released their holiday album, Christmas Interpretations. Now, just nine  years later, Philly's favorite football team is releasing theirs.
Jason Kelce announced that he and a few of his teammates intend on releasing "A Philly Special Christmas" later this year. In a post to Instagram, Kelce says, "Cannot properly verbalize what a pleasure it was to create and sing on this album. We are excited to share the Joy, friendship, and holiday spirit that went into making it this season!" 
The name of the album refers to a trick play used in SuperBowl LII, called the "Philly Special." It went down like this: Nick Foles, Eagles quarterback at the time, came out from his spot under center. He shifted to the right, giving him the perfect route into the endzone. It was completely uncalled for. Trey Burton made the 1 yard pass to Foles allowing for him to score the touchdown. The play was completely legal, giving the Eagles a 10 point lead at halftime over the New England Patriots. The Eagles ended up taking the win , with a final score of 41-33. 
The album goes up for Pre-Order beginning October 9, 2022. They will release "Christmas (Baby Please  Come Home) on Black Friday, with the rest of the album being released December 23, just in time for Christmas. The album is set to include plenty of holiday classics, such as "White Christmas," "Blue Christmas," and all of the Christmas songs in between. One of the most anticipated tracks is "The Night Before Christmas" performed by Merrill Reese, a Philly radio legend himself.
 The album cover, as seen on the albums official website ( phillyspecialchristmas.com ) is a rendition of A Charlie Brown Christmas featuring Kelce, Jordan Mailata and Lane Johnson as the Peanuts characters. It's being released by Vera Y Records, with former Philly linebacker, Conor Barwin, as the executive producer. All proceeds will go to the Children's Crisis Treatment Center. The money will be used to help fund a toy drive for children growing  up with  a rough childhood.
The Eagles currently hold a 7-0 record, and they're looking to go straight for the chip.
I guess it's time for Mariah Carey to make way for these up-and-coming Christmas music legends. And on behalf of Eagles fans everywhere, SuperBowl LVII, all we want for Christmas is you!
View Comments (1)