She's a Singer… and a Businesswoman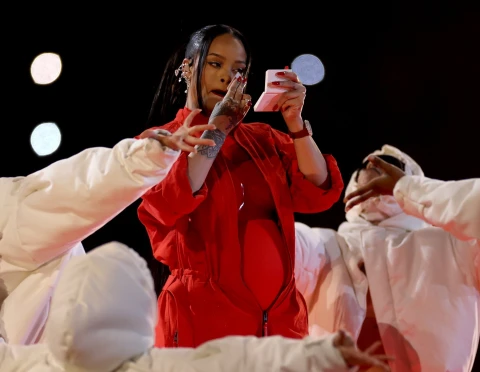 Marketing is critical when there comes an opportunity to advertise to over 100 million people at once, and Rihanna used this visibility to her most desirable advantage.
   Super Bowl commercials typically cost $6 million for 30 seconds or $16.8 million for 90 seconds. These ads are known for being over-the-top, entertaining, and incorporate surprise A-list celebrities. Yet, while the commercials are highly anticipated, perhaps this year's long-awaited halftime show better represents the extravagance of Super Bowl marketing.
 In 2019, Maroon 5, Travis Scott, and Big Boi all performed and lit up the stadium with an astonishing halftime performance. This year, however, Rihanna took the stage with only herself, her baby bump, and apparently, her marketing team. 
   Prior to the Super Bowl, Rihanna enjoyed the beauties of life off-stage, having not performed in four years. One of her off-stage endeavors involved the land of makeup. In September of 2017, Rihanna founded a cosmetics brand; Fenty Beauty reaps success from offering forty shades of foundation, satisfying a massive range of complexions. This successful makeup line collaborates with other beauty brands and sponsors well-known influencers.
  Amid her performance, Rihanna reached for her Fenty Beauty powder and casually reapplied it mid-performance. Before belting out one of her most iconic songs, "All of the Lights," Rihanna proved she is more than a singer but rather a businesswoman. This casual but effective marketing strategy resulted in an 833% spike in Google searches for her brand. 
   Her clothing brand, Savage X Fenty, produced exclusive shirts that read "Rihanna Concert Interrupted by a Football Game, Weird but Whatever" that sold out within minutes. Fans loved this slogan, as it took over Instagram captions and Tik Tok videos. 
   This free marketing strategy will not only bring her more Fenty Beauty and Savage X Fenti customers, but also millions of new listeners to her beloved music. 
   While Rihanna is more commonly known as a singer or a performer, perhaps she should be recognized as a businesswoman and pure marketing genius!
Leave a Comment