Israel is under attack.
  Again. 
This conflict isn't new— it's been reported on for years, talked about for decades, and lived through for what feels like eternity. As a proud Jewish-American, I've always been aware of the tensions between Israel and its neighbors. Still, I was here, and conflict was there. But today, the 5,700 mile separation seemingly disappeared. Today, my connection to the situation became more apparent than ever.
Last night, I went to Akira, a local Japanese restaurant, with a group of friends. We ate fried rice, talked about college, and laughed a lot— typical activities for American high school seniors. Afterwards, we went back to a friend's house for a sleepover, quickly falling asleep from a hibachi-induced coma.
Yet, a normal Friday night evolved into an unimaginable Saturday morning when a very close friend woke up to a text from his mom "Israel is at war. F**k."  He read the text aloud, trading five words for five minutes of silence. Everyone in the room was Jewish. Everyone in the room knew someone in Israel. Everyone in the room was shocked, confused, and speechless.  
Eventually, the stalemate between silence and sound ceased. We spent the next hour reading about Hamas' terrorist attacks, sending prayers to distant friends, watching gruesome videos of violence in streets we once walked, reflecting on our personal identities, and thinking. 
Just thinking. 
 But, this isn't a piece about politics— nor religion or war. Though it very much could be, in a time swallowed by grief and mourning, focusing on good is more impactful than empowering evil. So instead, this is a piece about Israeli citizens' ongoing resilience. 
In December of 2022, I traveled to Israel with sixteen of my closest friends (coincidentally, one of them being the friend who received the text above!). Before the thirteen-hour flight, I remember calling my mom, admitting that I was somewhat scared. Without blatantly saying words like terrorism, missiles, bombs, or death, my mom unquestionably knew why I was scared for in our current climate, these fears are common among Jewish individuals. After her reassurance, I boarded the plane, beginning the best two weeks of my life. 
Following our first sleep in a Negev Desert hostel, we eagerly embarked on our jam-packed day— one of many! Our itinerary read: a traditional shakshuka breakfast at the hostel then a visit to David Ben-Gurion's grave then a brief period for davening then our first hike to a picturesque waterfall… all before 2:00pm. Though our tired New-Jersian legs yearned for rest, our forty-five minute bus ride to the Gaza Strip was the only time our hiking boots dangled from the coach bus seats instead of kissing the Israeli ground. 
Read that again.
"…our forty-five minute bus ride to the Gaza Strip…" 
 Yes, I approached the Gaza Strip. Yes, I was in the terminal that legally and safely enables Israeli and Gaza citizens, alike, to travel between Israel and Gaza. Yes, I saw the now-broken fence that Hamas illegally and dangerously breached to infiltrate my Holy Land less than twenty-four hours ago. Although I am sitting in my Voorhees kitchen, safe from the ruthless terrorists that attack the region I once called my safe space, I can't help but recall my moments gratefully inhaling the same air that Hamas now steals.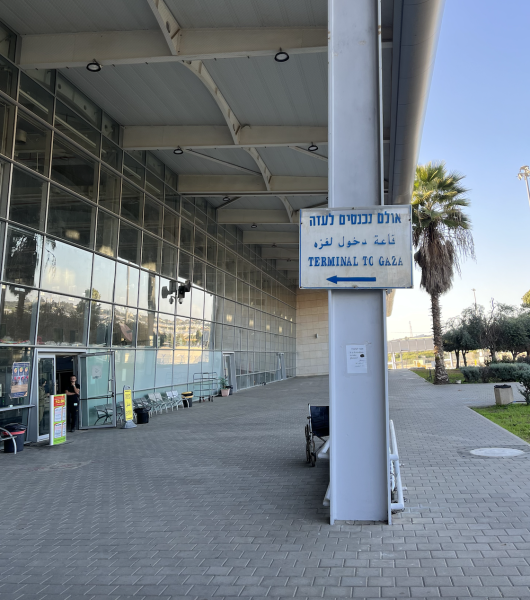 Just a stone's throw away from the Gaza Strip, day one ended at שביל הסלט or The Salad Trail! I'll never forget my time spent at The Salad Trail for it was one of the most memorable and inspirational experiences of the entire trip— in fact, the conclusion of the excursion serves as inspiration for this story. 
Guided by a kind, enthusiastic, and somewhat sarcastic man named Uri Alon and his dog, Covid (the first glimpse of Uri's unique attitude toward negativity), we toured Israel's most abundant and technologically advanced greenhouses, harvesting and tasting the juiciest fruits and freshest vegetables. At the end of our tour, Uri led us under a pavilion-like structure and told us to sit. Once settled, he disappeared without comment. Similar to a class of high schoolers when a teacher leaves for a literal moment, his teenage crowd began to buzz. Within two minutes, Uri returned with his same bubbly attitude, holding a rusted piece of metal. The crowd fell silent. 
"What is this?" Uri questioned in the same tour guide tone he used throughout our visit. 
As if it was a rhetorical question, no one answered. 
"It's a missile," he said blankly. 
I remember the goosebumps forming on my thighs. And the peach fuzz standing on my arms. And the shivers that those three words sent down my spine. 
Uri explained that this was one of the thousand rockets fired into Israel by Gaza's terrorist groups. He mentioned that he found this particular rocket on the land where we currently sat. He continued to tell us stories about the rocket attacks, emphasizing the commonality of wailing "Code Red" sirens.
"15 seconds," Uri stressed, finally breaking his optimistic and outgoing persona, letting the crowd hear the terror in his voice. "15 seconds is all I have to run for my life." 
 I should note that at a normal tempo, you can't even sing the entire alphabet that fast. 
Uri continued detailing his unimaginable experiences with terrorism. He acknowledged that his less than 10-mile proximity to the Gaza Strip often feels like an invitation of death. Yet, he also declared that moving his home, his farm, and practically, his life would mean that terrorism would win. Uri reached down, lifting a beautiful menorah from an opaque bin that sat next to his feet— so caught up in his story, I didn't even notice the bin was there.
"What is this?" Uri repeated the question he asked 15-minutes prior, except this time he was talking about a common Jewish symbol instead of a missile.
"A menorah!" A fellow teen in the crowd confidently shouted.
"Correct, but what is it made of?" Uri pried. 
 "Metal!" The same kid all-knowingly replied, looking at his surrounding friends as if there was no other possible answer.
Uri shook his head and pointed at the rocket he set in front of him. The initial buzz of the crowd became present once again. Uri went on to explain that every rocket he finds, he sends to an artist named Yaron Bob. Yaron weld's the instruments of death into works of art. Uri rapidly began grabbing other metal sculptures from the opaque bin: a mezuzah, a candle-stick, a Star of David necklace, a rose. Everything that Uri pulled out of the opaque bin was once a rocket that tried to murder people of my kind.
  "From rockets to roses!" Uri marveled. "Right now, at this point in time, the most important Jewish value is resilience."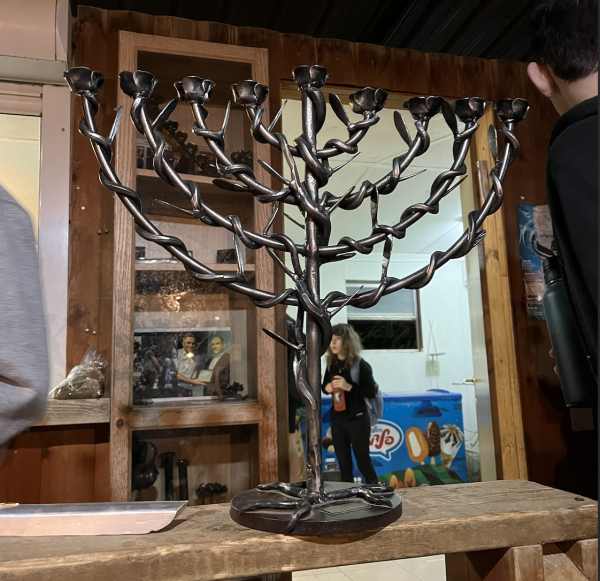 And that quote— those words perfectly strung together like a macaroni necklace— is what I, and all Israeli citizens, live by every day. 
For those living in Israel, tomorrow is never promised. Today is hardly guaranteed. I said it at the beginning of this piece, and I'll say it again: Israel is under attack. Over 700 Israeli citizens have been murdered. Over 100 Israeli citizens have been kidnapped. Over 2,000 Israeli citizens have been injured. To put it in perspective, this is the largest number of Jewish people that have been killed in a single day since the Holocaust. 
Last night, people I once laughed with were called to fight for their country— typical activities for Israeli high school seniors. I can't even put into words how much I admire the bravery, loyalty, and resilience of those my age defending their very existence. I pray for the dead. I pray for the missing. I pray for the families of victims. I pray for the country my ancestors call home. 
Regardless of your gender, age, residence, ethnicity, or religious affiliation, I ask you to pray too. Stand with us. Stand with Israel.
Am Yisrael Chai— the people of Israel live. 
 If you are interested in buying one of Yaron's creations, please visit theisraelboutique.com.
To educate yourself on the current conflict, please visit www.adl.org.