Does "Concrete and Gold" meet the Foo Fighters Platinum Standards?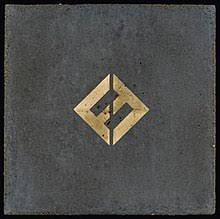 "Revolving on and on, a world that never stops…"
  While these are only lines in the new album's title track, the Foo Fighters have made it evident that they are in fact the band that never stops.
  Released in September, Concrete and Gold joins the Foo Fighters' vast library of rock driven records as the eleventh studio album. This is the first full length album since 2014's Sonic Highways. The band was very excited for the release. In fact, they had a lot to say about it.
  "It happened at the perfect time. I was inspired by what was going on with our country – politically, personally, as a father, an American and a musician. There was a lot to write about", leader Dave Grohl said of the creative process in a Rolling Stone Interview. It is obvious that the band pulled from many areas of inspiration, as the songs move in all different directions, from the metal bordering track "Run," to the softer alternative style seen in "Dirty Water."
  In the production of the record, some fans grew worried: it was to be produced by a producer and co-writer of pop music – Greg Kurstin. Kurstin co-wrote Adele's chart topping single, "Hello."
  Despite the worry that the group would lose connection with their instrumental roots, the finished product displays the Foo Fighters signature rock structure. The band has yet to let down the fanbase. Their commitment to impressing fans has solidified their longevity, with already more than twenty years together already under their belt.
  They've come a long way from their 1994 debut as a grunge band formulated by ex-Nirvana drummer Grohl. Not only have they made a name for themselves, but they've created their own unique sound. Lest it is mentioned they have maintained a loyal fan base for over two decades.
  The upcoming year is an especially busy one for band, with the release of their new album and the launch of a jam-packed tour. Local Fighter Fans can see the band on this tour when they come around to the BB&T Pavilion in Camden on July 7th of next summer.
  Exceeding standards in every way, Concrete and Gold is a perfect showcase of the Foo Fighters musical talent and is definitely a must-listen for any fan.
Leave a Comment