"Call Me by Your Name" offers a new look on love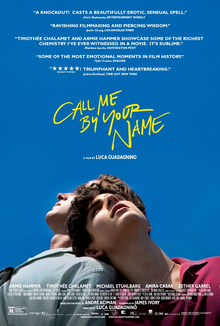 A film full of sweetness without a trace of sentimentality; a work that never loses warmth. I started reading the novel prior to watching the movie a few weeks ago, quickly skimming through a couple of chapters. After reading tweet after tweet about the movie for the past month, I thought it was only necessary, ignoring the fact this movie came out in 2017. I finally stopped anticipating and watched the movie once and for all.
 The thing that struck me the most about the first minutes of this film wasn't the acting, or the visuals, or the script. It was the intimacy. Let me explain.
 I thought I was ready for the "emotional rollercoaster" I was about to begin, according to the entire spectrum of Twitter. Everyone said numerous times that this film had something life changing to it, special, magical even. Yet I found myself in disbelief considering the past few weeks all I've watched were poorly represented "coming of age" movies and didn't expect this one to be any different. Yet I realized twenty minutes into the film, I wasn't ready at all. Not even a little bit.
 Because it was different than anything I've ever seen in a film. The directors choice not to layer music over emotional scenes combined with the familiarity of these two characters falling in love created a strange feeling as if it stopped being a movie.
 Did I forget to mention the two characters falling in love were two boys?
 A precocious 17-year-old boy named Elio (Timothee Chalamet) and a visiting PhD student Oliver (Armie Hammer). The shy boy is just beginning to find himself in the company of a man who thinks he knows all about life. They meet in the summer of 1983 in the gorgeous Northern Italy vacation villa of Ellio's mother and father.
 You may be thinking I am reviewing another love story between two boys who meet during their summer vacation, but I'm not. This isn't another stereotypical romance because there was never a single moment where I even felt like I was watching a movie.
 It was more as if I was welcomed into the unfolding of a magical love between two people. Their relationship is handled with beautiful sensitivity, and eventually becomes so intoxicating to watch that the italian countryside becomes a mere background to the connection between the pair. It was upsetting after a while, to be honest, as it cut from scene to scene like memories.
 The way Guadagnino, the director, is able to capture the emotional connections of the movie with Italy's quaint and gorgeous landscapes along with the evolving relationship is timeless, universal, and yet largely unexplored. The film manages to make moments within glances and smiles live even more than words, and that's just unbelievable to me.
 The film most definitely had to leave an impact on those involved and honestly, after watching it, I was left speechless. I don't know a better way to put it… it's simply a beautiful and sincere portrayal of genuine love, it's original, dreamy, and evocative of amazing memories and feelings. I suppose it made me want to fall in love somewhere in northern Italy.
Leave a Comment