21 Pilots comes out of the Trenches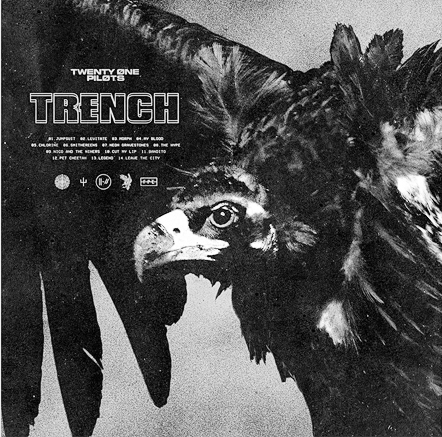 Hang on for a minute...we're trying to find some more stories you might like.
With Tyler Joseph on vocals and Josh Dun jamming on the drums, Twenty One Pilots was born with a self-published album in 2009.
  Almost ten years later the brilliant band came back with their fifth album and arguably their best-Trenches.
  Twenty One Pilots is known for their poetic song lyrics and amazing performances. Every song makes you think, and watching the band mesmerizes viewers. Tyler sings his heart out, even busting out his ukulele skills from time to time as his best friend Josh does wonders on the drums.
  The band can be defined as "alternative" but with its new album released on October 5, 2018, the band added a hip hop vibe with songs like "Legend" and "The Hype" that will make any listener stomp their foot to the beat.
  The band is known for making you think by containing lyrics that their mostly teenage audience can relate to and sing along with.
  Tyler Joseph is known to take his songs to the next level by surprising their young listeners with suicide references. "Neon Gravestones" is an example of this in which Joseph takes a stance on Hollywood's glorification of suicide. The songs rap contains lyrics like "I could go out with a bang, they would know my name. They would host and post a celebration," which explains how if stars commit suicide their lives are celebrated and names are known even more.
   The songs seem to say what you've been thinking, but didn't know how to put into words.
Tyler's lyrics are used to relate to teens who go through depression and suicidal thoughts to help them understand that they are not alone and that even he has these thoughts.
   Every song on the new album Trench contains well thought out lyrics by Tyler, Josh, and contributor Paul Meany. These songs tell a different story up to interpretation from listeners and fans.
  The album has a more indie tone with slower songs and less screamining than previous ones. Songs on the album still bring listeners to tears while also making them want to yell the lyrics to the rooftops.
   Songs like "Jumpsuit" end with Tyler screaming the chorus, giving the listeners goosebumps. The song's tone and lyrics are unbeatable.
  Fans find themselves with the songs already memorized only a day after it's been released.The band is set to go on tour and is coming to the Wells Fargo Center in Philadelphia at the end of October.
   Tyler explains his love for music in a quote saying "music seems to hold everything together. It seems to make things not so chaotic sometimes. It seems to make things make more sense sometimes."
  Both Tyler Joseph and Josh Dun are musical inspirations to teens and help their lives make more sense through every lyric that streams to their headphones.