Super Smash Bros Ultimate is a smash hit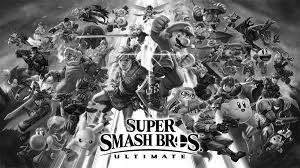 There's no question that Super Smash Bros. has become one of Nintendo's most popular video game franchises. The debut self-titled game, published by HAL Laboratory of Kirby fame, took the world by storm with its innovative and unique fighting mechanics. Rather than slowly chipping down opponent's health bars, the Smash series has players attempting to launch their foes off of the stage; the higher their damage total rises, the easier it gets to blast them off into the sunset.
  Smash fans around the globe have been clamoring for a new title in the series ever since Super Smash Bros. for Nintendo 3DS and Wii U hit store shelves in 2014. They finally got their wish when the fifth installment, Super Smash Bros. Ultimate, was released worldwide on December 7th.
  From a sheer content standpoint, Ultimate blows every other Smash game out of the water. Not only does it contain multiple new characters and stages, players can battle it out with every fighter that has ever appeared in a series entry. Additionally, over 800 music tracks and 100 stages are available in the new release.
  Aside from the main multiplayer mode, players can enjoy the new "World of Light" single-player mode. Upon its announcement during the Super Smash Bros. Ultimate Direct on November 1st, reception towards the new mode was very positive, considering Smash has lacked a full-fledged adventure mode since Super Smash Bros. Brawl "The Subspace Emissary".
  Eastern freshman Jaedon Brown is a massive fan of the series, so much so that he can recite the release date of each game in order. Of everything that Ultimate has to offer, Brown feels ecstatic about the previously-mentioned "World of Light" mode. "I'm really excited for the story mode, World of Light. There hasn't been a story mode since Brawl."
  But as amazing and jaw-dropping as Super Smash Bros. Ultimate is to everyone who has played it, there's a chance that a Smash entry has launched for the final time. Longtime series developer and creator Masahiro Sakurai has left the fate of the series undecided in a recent interview with Edge magazine, saying "A great deal of possibilities lie in the future, so I'm not really in a position to say if this latest Smash Bros will be the last one. Although I do question whether I would be able to create one with a scale that's greater than this."
  Eastern freshman Gabriel Robayo offered a unique take on the situation. "I personally don't think that the Smash series has any room left to grow, as the "ultimate" in the name provides the underlying tone that Sakurai will end the series. I think that this game is acting as a sort of swan song, being that everything a Smash fan could ever want is in this game."
  Regardless of the series' future, Super Smash Bros. Ultimate has already made a sizeable mark on the gaming world. Unsurprisingly, critics adored Ultimate, with Metacritic giving it a score of 93 out of 100, and IGN rating it 9.4 out of 10. So far, it's safe to say that the newest release of in the Super Smash Bros. series is a smash hit, and will be adored for many years to come.
Leave a Comment