Sucker, Jonas Brothers new song, reviewed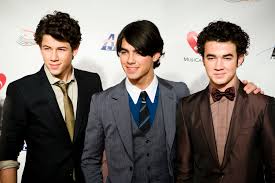 My inner eleven year old screamed when I saw the notification. Females from their late teens to mid twenties from around the globe collectively were thrown back a decade to a simpler time. A time where the debate wasn't who's sexist or what party to vote for, but when the only thing on our minds was which Jonas Brother was the cutest.
  When the announcement came out that the family trio was reuniting in the spotlight, that debate reopened. Today, both Kevin and Nick Jonas are married, Kevin with two daughters, and Joe Jonas engaged. The family dynamics have definitely changed, but all our fangirl dreams have come true.
  At midnight on March 1st, the Jonas Brothers released their first song since their 2013 breakup. The single, called "Sucker", is a far cry from their boyband roots. It has a more Maroon 5 pop feel. Nick Jonas' falsetto serves as the hook, while middle brother Joe's more intense chest voice provides a more deep, even enticing song.
  Upon their return to the spotlight, they were given a week on the Late Late Show with James Corden, playing games like "Spill Your Guts or Fill Your Guts" and taking part in the popular tradition of carpool karaoke. These videos and more are available on the show's YouTube channel.
  Having grown out (at least mostly) of the obsession over Nick and Joe, it's now come to the forefront that Kevin is probably the most funny of the group, and has a wicked sense of humor. In the interviews, he is likely the most entertaining.
  It's plain to see the quirky boy band has grown up. Fans of their Disney Channel TV show following them around high school are now grown men making more mature content. These New Jersey natives have announced they have recorded a large bundle of songs that we should be seeing on an album in a few short months.
  The spark is back, and millennials everywhere are digging up those old posters, while a new generation takes interest as well. One thing is for sure; my wall is about to be plastered with Joe Jonas once more.
Leave a Comment