Elite continues the era of Netflix telenovelas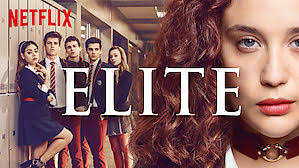 Despite what my grade might say, I'm actually obsessed with the Spanish language.
 The culture has always fascinated me, and it's no surprise I take every opportunity I can to use what I've learned in class and on my own. Linguistics doesn't come easy to everyone, and many students at Eastern use TV shows to bridge the cultural gap. But this gap widens with flawed ideas of diversity and unclear ideas of what a soap opera is meant to be.
   Over the years Netflix has featured plenty of telenovelas, like El Internado, Velvet, and Violeta, but the company hadn't produced their own until the 2017 introduction of Chicas del Cable (Cable Girls). Cable Girls is the ideal telenovela because it's set in the Jazz Age, yet reflects the diversity of modern society. It's embodied the intersectional feminism by shedding light on sexual empowerment, how feminism has evolved abroad, and LGBTQ+ representation that we need, which is unparalleled for such a platform.
   However, Morocco: Amor in Tiempos De Guerra (Love in Times of War) is entirely uninclusisve. Still set in the 1920's, except M:ATG is during the Rif War, the producers had ample opportunity to discuss historical racism abroad as well as the rise of fascism in Spain. The series is set in Africa, but there are no major black characters. The 1920's was a time of sexual and political revolution, but you can smell the straightness through your screen. The fashion was less interesting and exciting, and felt as if the costume designers were thirty years behind the times. Overall, not a must watch unless you want undynamic characters with even less interesting storylines.
  Siempre Una Bruja (Always a Witch) is mildly more exciting, but still lacks the modernity we crave. Centering on Carmen Eguiluz, a slave in 1800s Carthage who was burned at the stake due to an illicit relationship with one of her master's sons on the accusation of witchcraft. After selling her soul to keep him alive, she turns into a witch and rises from the waters around Carthage.
  And while the representation for black women being accused of witchcraft, as they made up the majority of the accused, is almost unheard of, that's about all that's unique about the series. Instead of taking the time to address the diverse population of the city— the majority of Tunisia (the country it's in) is Middle Eastern and African, the majority of the cast is white, and all the characters are straight. Although it's nice to have a black heroine, the subliminal message of black women needing to adjust to the societies around them, regardless of their needs, is a poor one. Plus the costumes are as if the Pretty Little Liars went colorblind.
    Lastly, there's ELITÉ, which has been raved about since its October debut. Such fervor has been entirely unnecessary, largely due to the many flaws within the plot. Spanish series' have always had a penchant for focusing on rich kids in affluent environments who have everything going for them. ELITÉ is not one of them.
   The main issue is that they tried too hard and not hard enough at the same time. It's first mistake was to make all the 'poor' (most of which were middle class) students on scholarship hate the wealthy for no reason. Then, the elitism the wealthy students had was too obvious and more like petty playground disputes than something students our age would actually do.
   Then, Nadia, the Muslim student on scholarship is forced to remove her hijab and takes no legal action. She doesn't even tell her parents. Her brother, Omar, is not fortunate enough to attend her new school, and deals drugs so that he can eventually emancipate himself from his homophobic parents and elope with his boyfriend. And instead of supporting him, Nadia asks him if he can stop being gay until he's of age to leave officially. Then his parents try to throw him into an arranged marriage, and it's a whole mess perpetuating stereotypes of Muslims.
   Then, one of the poorer students' love interests is a rich girl, so of course a Romeo and Juliet sitch happens when his alcoholic mother and criminal brother — the latter of which has an affair with his younger brother's love interest — get involved. Then she reveals she's HIV positive. And pregnant. And now an addict. And convolutes a ton of issues which makes me wonder what in fresh heck do kids our age do in Spain???
   And that's not the worst of it. Said love interests' twin brother is being manipulated by his on and off girlfriend and who repeatedly violates him without consent and encourages him to trick Nadia by pretending to fall in love with her to humiliate her, and I'm sure you can guess what happens next. Then, his best friend begins a poly(amorous) relationship with his girlfriend and the best friend of the poor kid, only to violate his trust and consent. Every character is problematic, and together, they're dysfunctional.
   Three fourths of Netflix's telenovelas have been major letdowns (technically two and a half not counting the good parts of Siempre Bruja). Hopefully in the future they'll take the time to address modern issues in a realistic and appropriate manner.