The cast of Eastern's "The Music Man" beguile audience with emotion and lightness
The Cappies is a writing and awards program that trains high school theatre and journalism students to be expert writers, critical thinkers, and leaders. Student critics vie to be published in local media outlets by attending productions at other schools and writing critical reviews.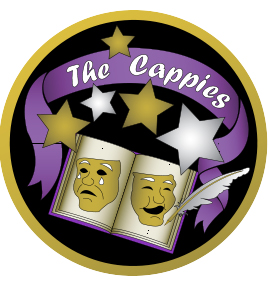 "Ya got trouble" if you didn't get to see Eastern Regional's production of the American classic, "The Music Man" this weekend.
This Franklin Lacey and Meredith Willson 1957 musical tells the story of a small Midwestern town caught in the well-spun lies of a con man posing as a bandleader to make a profit off their young children until a wedge in the form of a prim librarian is thrown into his plan.
Harold Hill, the con man portrayed by Caleb Schneider, had audiences enthralled with strong vocals and bold acting choices in order to truly tap into his confident character. Alongside Schneider was Addison Clark playing the stubborn yet captivating Marian Paroo. Clark's Marian portrayal was filled with emotion and lightness to her character, pulling audience members in from start to finish. Schneider and Clark's chemistry was evident in musical numbers such as the coy "Marian the Librarian" and the sweet-toned "Till There Was You."
The rest of the cast was as equally beguiling. From the all-in ensemble to the comedic Shinn family, every cast member played an important role in creating the large picture of this show. Mayor Shinn, played by TJ Rickey, and his wife, Eulalie Shinn, played by Elizabeth Flewelling, created a wonderful duo of comedy. Along the lines of comedy, Seth Wise as Marcellus Washburn centered in songs such as "Shipoopi" kept audiences both laughing and fascinated with the in-sync dancing of the teenager ensemble.
Among the features roles, the soft-hearted couple of Zaneeta Shinn and Tommy Djilas, respectively played by Dana Ramadan and AJ Love showcases their incredible dancing and acting abilities through a short ballet routine in the second act. An ensemble that also deserves some accolades is the Barbershop Quartet consisting of Nick Vitale as Ewart Dunlop, Bobby Weil as Oliver Hix, Jordan Edmondson as Jacey Squires, and Nidheesh Phadnis as Olin Britt. This group flawlessly pulled off difficult four-part harmonies a cappella. One number in which they were singing alongside the Pick-a-little Ladies with Mia Sundstrom as Alma Hix, Lauren Zubrzycki as Maud Dunlop, Faith Sirdashney as Ethel Toffelmier, Catherine Nguyen as Mrs. Squires and Ally Mazza as Mrs. Britt.
To make sure this show ran as smoothly as possible, the stage crew led by production manager Emily Stevenson and Kavya Ramesh were stepping up to the task of moving large and undoubtedly heavy set pieces in mere seconds. The orchestra was phenomenal as well. Although there were some parts in the show where the levels between music and singing were unbalanced, the majority of the show was finely-orchestrated by this section of truly talented young performers.
This musical theatre classic has been a staple in the American musical classics since its release in the late 1950s, and as demonstrated by Eastern Regional's performance, still holds its value even 62 years later in the sincerest of ways.
by Erin Nevin of Lindenwold High School