A star in the making: Kylie Zielinski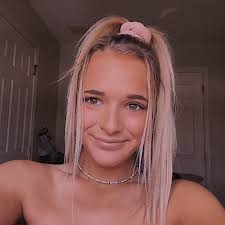 The past twelve months have been a whirlwind for Senior Kylie Zielinski. Last winter, she was a little known YouTuber with just a few thousand subscribers. Her TikTok account also had a relatively small fan base. 
   Fast forward to September of 2019: Kylie has amassed a following of over 143 thousand subscribers on YouTube and upwards of 325 thousand followers on TikTok, including 9.9 million hearts, which are equivalent to likes on Instagram. 
   Her YouTube videos are mainly geared towards teens that can relate to everyday life both in and out of school. Regardless of the audience, she loves making both YouTube and TikTok videos because she gets to hang out with her friends and have fun. That is the reason she started vlogging in the first place, to look back on fun times with friends. "I never really meant for anyone else to watch it," she says.
   One of the fan favorites on her channel is Senior Frankie Noble, who always gives her subscribers a good laugh, from asking for money on his Venmo to explaining how he got fired just four days into his new job. 
   Kylie thinks she can use her popularity on YouTube and TikTok to help jumpstart her own business one day, which she plans on pursuing after college. By now, most Eastern students know she is a YouTube and TikTok star, but admits it's still a little weird to be vlogging in the halls of Eastern. "At first I was fine with it because no one even knew my YouTube, but now I feel like everyone is expecting it," noted Zielinski.
   From being on the field hockey team to having to deal with the college application process, Kylie is pressed for time when it comes to making and editing her YouTube videos. She typically films on the weekends and "whenever she has time." She makes good use of her study hall, but not how you would think: most of her video editing is done during this period. 
   Even with all her YouTube success, she still does not have a name for her fans. "Someone [a fan] did say Zinkie, but I don't know if they know how to say my last name," Zielinski remarked. Climbing up the YouTube hierarchy, Kylie mentioned that she would love to meet Shane Dawson, who has accumulated over 23 million subscribers and is well known for his series on the investigation of different conspiracy theories. "He's the queen of Youtube and has been on there [YouTube] for so long," added Zielinski.
   What started out as funny moments Kylie and her friends could look back at in years to come, her future in social media has become more than just that. 
  The sky's the limit for her, and soon enough, she might find herself amongst the stars. Kylie laughs, "I never expected any of this."