The Only Girl on the Gridiron
In the typically-male sport of football, there's one girl who not only survives, but thrives.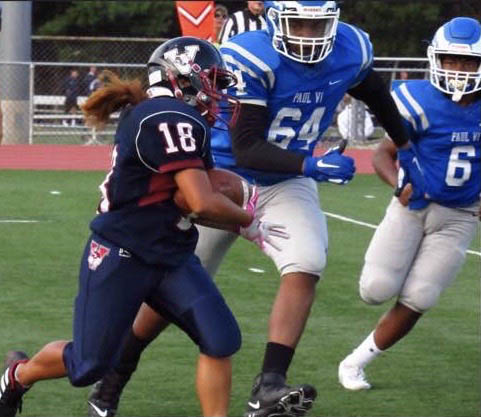 Who says that girls can't play football?
  Traditionally a male-dominated activity, football is one of the most physically-taxing sports around. A deeply-rooted stereotype in society is that the "tougher" boys play football, while the girls stick to playing field hockey, softball, soccer, or other less-impactful sports. However, there's one helmet on the Eastern sideline with long, brown hair flowing out the bottom.
  Meet sophomore Jasmeen Duque. Some may be unfamiliar with the name, but that's because she's a new student here at Eastern for the 2019-2020 school year. When both of her parents received new job offers, her family made the move from their Rosenberg, Texas home, which is in the suburbs of Houston.
  On the field, Duque shifts between playing safety and running back, and is currently training to become a kicker. Her football career began in 8th grade, when she had a mental epiphany of sorts.
  "I'm that one girl who plays football with the boys outside, and one day, I thought 'Hey, life is too short;' might as well play for the school," she said.
  Although being the singular female in an otherwise completely-male sport would psychologically affect many people, Duque isn't fazed.
  "Hit me just as hard; I signed up for football, so that's what I'm going to get," she said.
  As a leader and a trailblazer for young women in the sport of football, Duque's family is very supportive and encouraging of her budding career.
  "They're like my little cheerleaders. You're going to hear my mom screaming in the bleachers every game," she said.
  In school, Duque enjoys the subject of math, and plans to major in engineering at college, using her skills from the robotics team. Outside of school, some of her favorite activities include color guard, soccer, golf, dancing, basketball, and cheerleading.
  As for whether she will continue playing football in the coming years, Duque preferred to keep it a secret, leaving it up to fate to decide.
  "I will keep it a mystery, as the future has many possibilities," she said.
  In the end, Duque has one piece of inspirational advice that she wants the world to know.
  "It's all about your mindset; it's what you believe that you can do. If you can dream it, you can achieve it."
Leave a Comment