The agony of defeat: Girls Soccer falls short of ultimate goal
With nothing left to prove after an undefeated regular season, the Girls Soccer team had one final goal in sight.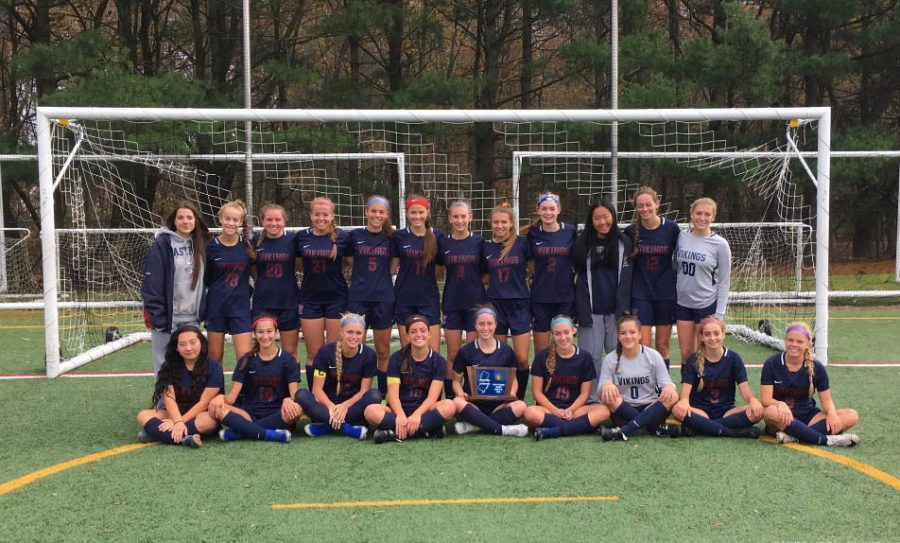 The Girls Soccer team's season came to an end with a heartbreaking 1-0 loss to Hunterdon Central in the Group 4 semifinals. The loss snapped a 42-game unbeaten streak for the Vikings, who were the number one high school team in the nation according to topdrawersoccer.com. 
  Even before the opening whistle sounded, there was already controversy surrounding the semifinal game. Due to cold temperatures, the match was postponed until the following afternoon. Various reasons such as parking issues forced NJSIAA (the governing body for NJ High School sports) to move the game away from a neutral site. Unfortunately for Eastern, they were set to wear their road jerseys that afternoon, and were therefore chosen as the road team. 
  Hunterdon Central phenom Emily Mason scored the lone goal early in the first half. Eastern had many opportunities to equalize, but could not convert. 
  "I thought the second half we played much better with much more energy. We hit the crossbar a couple of times and had our chances…It's a brutal way to end such a great unexpected season, but that's the game of soccer, unfortunately," said Eastern coach Jamie McGroarty, per NJ.com.
  Despite the loss, the girls should feel proud of what they accomplished this season, both individually and as a team. Finishing with a final record of twenty-five wins and one loss, being ranked as the number one high school team in the nation for most of the season, and winning the South Jersey Group 4 title, along with many other accolades, is nothing to be ashamed of. 
  Individually, senior captain Kelli McGroarty, arguably the most decorated individual to come through the program, registered 40 goals and 20 assists, while setting a program record with 275 points, an honor previously held by Amirah Ali. Junior Riley Tiernan led the team in assists (34) while trailing close behind McGroarty in goals scored with 33. Tiernan also holds the all-time assists record with 77 and still has one more season left to further increase that total.
  Rutgers commit Sara Brocious held down the back-line, and is likely to win her third First-Team All-South Jersey honor later this year. Senior Olivia Alves accrued 12 shutouts behind the net while sophomores Cami Silvestro and Devyn Shapiro also stepped up nicely.
  The senior class will graduate with an astounding 86-7-7 record, winners of three Olympic Conference Championships, two SJ Group 4 titles, and one Group 4 State Championship. Although the team fell short of their ultimate goal, the seniors have left an indelible impact on the program's storied history.