BTS's "Map of the Soul: 7" hits with emotional power
People who are struggling to find themselves can often take comfort in the lyrics within their songs.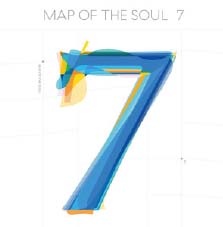 As 2020 kicked off, many music artists made their own start to the new year with new music albums and singles. A group that certainly made a permanent mark beginning this decade was BTS, the global phenomenon from South Korea.
   Debuting in 2013, this boy group including RM, Jin, Suga, J-Hope, Jimin, V, and Jungkook, has largely grown in popularity within the U.S for the past four years.
   The international superstars kicked off the year with the release of their new single, 'Black Swan', in January. Accompanied with an art film performed by MN Dance Co., the song began with melodramatic orchestral melodies, featuring heavy string instrumentals to add an eerie effect.
   As the song progressed, the true message that BTS wanted to convey through this song began to emerge within their lyrics. Suga and RM begin their powerful rap addressing their fear of losing their passions. These passions include their love for dancing, and performing overall.
   Martha Graham's quote inspired this concept: "A dancer twice – once when they stop dancing, and this first death is the more painful."
   As one delves deeper into the song, the focus shifts from their fear of succumbing to the pain and pressure, to revealing that they've started to learn how to accept their shadows. Suga raps more verses saying that he's finally seen himself instead of wandering around in the dark. Accompanying this, Jungkook and Jin sings in the pre-chorus expressing that they are no longer afraid of facing their future head on.
  Their entire album, Map of the Soul: 7, dropped on February 21 with the completion of 15 new tracks for their fans to enjoy. The title track, 'ON', features BTS's new rendition of an old song of theirs, 'N.O'. Paired with mesmerising choreography, the song addresses how the group has learned to accept their shadows. Not afraid anymore, the lyrics showcase BTS's new found strength in dealing with future challenges. In addition to this version, they also made another adaptation of 'ON' that features Sia. She also adds her own creative twist to the vocals of this song.
   And this is just the beginning; BTS reveals even more raw emotion with the songs, "We Are Bulletproof: The Eternal," "Zero O'Clock," "Moon," and "Louder Than Bombs."
   These tracks all share one thing: reassuring their fans that they'll always be there to provide support through their music.
'Zero O' Clock' relays the message that everyday, when the clock strikes 12 a.m, you get another chance to become a better version of yourself.
   On the more emotional side, "We Are Bulletproof: The Eternal," "Louder Than Bombs," and "Moon" expresses BTS's gratitude and passion towards their fanbase. Some lyrics from the first song state, "We were only seven / But we have you all now / We are, we are together, bulletproof". To add to this, Jungkook closes the song by singing, "Yeah we are not seven with you".
  Map of the Soul: 7 also includes solo tracks from all of the members, adding their own voice or aspect to the overall message of the album: that BTS and their fans have each other to face their shadows now.
  Two solo tracks, sung by V & Jungkook, are called 'My Time' and 'Inner Child'. Both of these songs reveal the hardships that they had to endure as they grew up in the spotlight.
  Other solo tracks including 'Interlude: Shadow', 'Filter', and 'Outro: Ego' talk about the hardships and sometimes the dangers of being celebrities. While 'Filter' contains components mirroring latin melodies, the other two tracks heavily feature rap.
  The appeal of BTS, for me, is simply because of their passion for what they do. People who are struggling to find themselves can often take comfort in the lyrics within their songs. It's rare for people and artists now to relate to and to comfort each other without interacting much. But BTS definitely finds ways to connect to their fans through their lyrics and melodies.
Leave a Comment