YouTuber Gretchen Geraghty exudes happiness and positivity in her podcast
"Happy Hour with Gretchen Geraghty"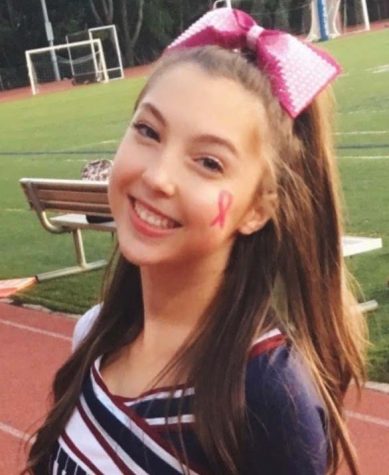 More stories from Faith Mendelson
With all the extra time at home in quarantine, it is a good time to try something new: maybe read a new book, binge a new show, learn a new skill, or listen to a new podcast. Furthermore, implementing an outlet of positivity into one's day to promote a 'glass-half-full' mentality during this somber time is important for one's well being.
  A great podcast to listen to to feel uplifted and more positive is "Happy Hour with Gretchen Geraghty." Hosted by 22 year old YouTube star, Gretchen Geraghty, the episodes of this podcast are each about an hour long.
Each episode showcases a variety of topics with a variety of guests, all while keeping a positive outlook on life. The first episode was available on October 12, 2019, and new episodes have been released every Friday since, making a total of 26 episodes so far.
  Gretchen describes her podcast as "an hour of conversation ranging from current favorites, and positive thoughts to deep topics about life, relationships, and being totally open and real."
She says she "is occasionally joined by guests in her personal or professional life to keep things interesting. She chats like she does with her friends and is overwhelmingly positive."
 Before starting her podcast, Gretchen Geraghty worked to become a successful Youtuber and grew a fanbase. Her fanbase loves her because of the happiness she exudes in all of her videos: she has become such a popular Youtuber due to her contagious happiness that you can almost feel through the screen and her positive outlook on life. 
  The title of the podcast, "Happy Hour," plays on the numerous comments about how happy Gretchen Geraghty comes off in her YouTube videos. Gretchen lives her life with a 'glass-half-full' mentality and always tries to have a positive outlook on life; in her videos she comes off as bubbly, full of life, and seemingly true happiness. 
  This rings true in her podcasts as well: many fans of Gretchen use her YouTube videos and podcasts as a 'pick-me-up', or a way to feel more positive themselves. Everyone needs positivity in their lives, but it is especially important to stay positive with everything going on in the world right now. Gretchen's podcast acts as a weekly reminder for listeners to stay positive, look at life with the 'glass-half-full', and to approach everything with an open mind. 
  Her podcast has also gained popularity because it feels so authentic and relaxed, almost as if the listener is actually sitting down and talking with Gretchen. She frequently has fans send in questions and will answer them during her episodes, giving advice and speaking about her personal experiences. 
  For the younger listeners, Gretchen almost acts like an older sister, which can be very beneficial for young girls and boys looking for a mentor. For those closer to her age group, in their early twenties, Gretchen acts as a peer. Those in her age bracket can find comfort in the way that she is going through the same trials and tribulations they are, trying to figure out how to do life as a twenty something.
  Having graduated from Boston University, she was able to record an episode of her podcast all about college: giving her listeners advice about college and post-grad life. She has shared an episode of her podcast where she discusses toxic relationships and shares her own personal experience, hoping her listeners can learn from her experience. She has done an entire podcast episode on using the law of attraction and manifesting change into one's life, something that is very important for young people trying to stay positive.
  Adolescence and growing up can be tricky, so Gretchen acting as a mentor or an 'older-sister type' to her listeners can be very beneficial. Her positivity and way of living is inspiring to listeners and can help people get through difficult times. With the COVID-19 pandemic, now more than ever it is important to find outlets of positivity: listening to "Happy Hour with Gretchen Geraghty" is a great way to stay positive in this very stressful and somber time.