Netflix series "Outer Banks" is an overnight sensation
Why is everyone so obsessed?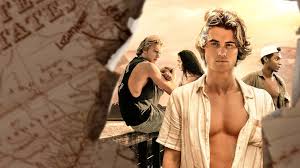 After only three weeks on Netflix, the series "Outer Banks" was the first title on the 'Top 10 in the US Today' list. With it's viewer rates reaching into the millions, the new series was almost an overnight success. Now, after only having been released for a month, it has now flourished into a generational sensation and has triggered a cultural reset.
  The series follows a boy, John B (Chase Stokes), and his three friends, JJ (Rudy Pankow), Kiara (Madison Bailey) and Pope (Jonathan Daviss) on a thrilling and suspenseful adventure. The four teenagers are in search of legendary treasure, believed to be linked to the disappearance of John B's father: essentially a modern day treasure hunt. 
  So why is "Outer Banks" so popular?
  At the start of the series, a tropical storm devastates the Outer Banks of North Carolina: power lines are down and cell service does not work. While the show takes place in today's society, the teenagers in the show are not glued to their phones because they have no choice. The storm causes their phones not to work, forcing them to forget about the screens and live their lives disconnected. 
  The lack of cell phones in the series reminded teenage viewers of their childhood: when they were oblivious to the world of screens or social media, and went on adventures, exploring the real world around them. "Outer Banks" triggers a sort of nostalgia, reminding viewers of that childlike wonder and awe, and the adventurous spirit of their childhood. 
  Teenage viewers of "Outer Banks" will find nostalgia in the lack of cell phones: for teenagers that have grown up with their phones always by their side, it is refreshing to see those that are your age without cell phones. Without being distracted by their cell phones, the teenagers in "Outer Banks" found the opportunity to go on this wild treasure hunt. By watching this series, viewers are more inclined to get off their phones, and explore the world around them, making memories with their friends. 
  However, it's not just the adventurous spirit and childhood nostalgia that's hard-hitting to viewers. After watching the series, many viewers have gone to social media to discuss how "Outer Banks" has triggered a "cultural reset." A "cultural reset" is when something in pop culture, such as a TV series or movie, causes people to change how they live their lives or to look at things differently. 
  A few Eastern students voiced their opinions after watching the series, and explained how it impacted them.
  Junior Chris Park said, "the show really focused on how fun and adventurous they [the characters] were without technology: it had an effect on me… I looked back on all the chances I had to be adventurous with my friends, but [realized] I had dedicated everything to social media." Park said that watching "Outer Banks" has influenced her to spend less time on social media. She said the series sparked a desire to "live more… hang out with friends, without technology." 
  Another junior, Anna Dolce, had a similar take away from the series. She said, "It made me want to get off my phone; it reminded me how much I enjoy spending time with my friends with no electronics. Watching "Outer Banks" made me want to spend more time outside."
  Watching "Outer Banks" sparked a desire for adventure in junior Sianah Larrea. She said, "I want to go outside and go on an adventure." The series gave her the idea to document this time in her life: "I want to make videos so I can remember [this time] in the future… the amazing memories I made with my friends." 
  Similar opinions came from junior Celeste Lebold: "Watching "Outer Banks" made me want to go outside and hang out with my friends, on a boat or at the beach… not just go on our phones… actually spend time together." She offered a prediction on how she thinks other teens will respond to the series saying, "I feel like most people our age will try to model their [the characters] lifestyle and live life to the fullest."
  Karley Gordon, a junior at Cherry Hill East High School, also offered her thoughts on the series. She said, "It made me feel like I'm not living in the moment enough and that I need to go on more spontaneous adventures with my friends to make memories"
  Seeing as screens have essentially dominated the 21st century, it is refreshing to see something spark a change in the way teenagers view technology and social media. "Outer Banks" has made viewers reflect on their own lives: their overuse of technology, their desire for adventure, their memories made with their friends. The series inspires teens to get off their phones and go outside, make memories and go on adventures; it encourages a world of less screens and more living in the moment.