Albums Don't Always Go Outdated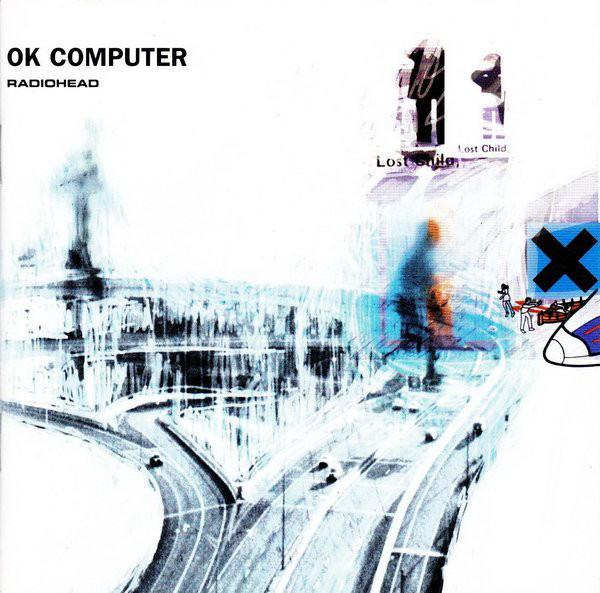 OK Computer is still considered a favorite even though it was released twenty-three years ago, and I doubt I will stop listening to it. Although I wasn't alive to experience it, 1997 was such a time for music fans and artists to cast a new shadow over the entire following decade of music and begin to introduce new types of music as it was almost the 2000s. Huge bands such as Coldplay and Arcade Fire shamelessly plundered from Radiohead's emotional and artfully experimental constructions of music to create their own brand of sensitive pop rock and introduced the world to many new artists and amazing albums. 
Coldplay does a lot of sighing and yearning, Arcade Fire drowns in hard decisions and life problems, yet with Ok Computer, Radiohead did all of this and more. They managed to encapsulate the melting pot of life by the end of the 20th century. Not only with their trademark paranoia and ambivalence, with their new musical approach combined with everything that had come in the previous decade. 
Taking influence from the dramatic anger of Nirvana and pixies and the experimentation of bands like Pink Floyd, Radiohead was able to spit out their entirely distinct but completely unrecognizable brand of pop rock that was very direct and melodic but also full of density and value in it's meaning.
 As a 15 year old listening to the album for the first time, all of this context was entirely lost on me. I suppose your inner teenage angst comes out while listening to this album and you envision yourself in an A24 film, sticking your head out of some old car into the wind. Yet hearing the drums of "Karma Police" and "Airbag" ripped some type of hole in my chest and headphones that was indescribable. It was almost as if I really just endured some life struggle out of a coming of age film. 
Fifteen year old me just allowed the soaring harmonies at the end of "Let Down" to fill up my chest with the urge to laugh, or maybe cry, and I knew I had just found my personal soundtrack that could be used if I ever was the main character in a movie about my life. There was a song in this album for any overwhelming confusion I could and had experienced in my life so far.
An album that was inevitably shared by millions and millions of people in the exact situation as me, people who most likely felt that same way about these songs. Most of the teenage melodrama has subsided in me, yet some songs still bring it out, yet that takes nothing away from the special value this album still has to me. 
Opening with Airbag, this song begins with a twisting guitar that swirls into melodies and hints of rock that leaves you a little anxious listening. Then eventually it descends into an outro that finds all parts of the song being chewed up and spat out by some kind of technologic rhythm. It's a pretty unique introduction, one that holds all the keen expressiveness the band was known for, but introduced a new instrument that had a unique style and emotional range. This elevated their sound to the next level.  
Paranoid Android takes the album one step farther with its symphonic structure and expressive vocals. It begins with a pretty sinister opening that eventually explodes into a rabid guitar solo, then hits an abrupt halt to allow a breakdown, then starts another explosion of chaos before the end of the track. This track is definitely played in moments where you find everything around you is sinking and you can't do anything right. Or you finally made a decision in life that could either end in your favor or down an entirely different path. 
Subterranean Homesick Alien takes on a softer approach, using swirling, shimmering guitars. They definitely amplified the sense of uneasiness and longing with Thom Yorke's desperate vocals. This song perfectly represents the ups and downs of days and the unsettling emotions you start to develop over time. There are moments of relief and times during the song that you feel yourself getting caught up in the angst and frustration in your life. 
Exit Music (For a Film) is definitely the song that made me find this album. It's a song that gives you chills as it builds from strumming to a very intense finale. Just the way the guitars rise up and the bass tumbles down at the end creates such a jaw dropping feeling as Yorke howls with helpless yearning once again. Yet this continuous yearning doesn't become repetitious as each song offers something different.  
The singles Karma Police and No Surprises are pretty much favorites to fans of modern rock anywhere. The signature creeping tone and euphoric release over drums and piano will definitely make the listener fall into an emotional hole, yet the song still sounds quite emotionless at the same time. 
Electioneering and Lucky both explore the manic, explosive energy and triumphant release as the rest of the album. These songs somewhat remind me of other songs by Radiohead. In contrast, Climbing Up The Walls is definitely the result of the band experimenting with their sound with this new electronic beat. Yet they still mix in the drums and chilling coals. This song might possibly be the darkest thing they've ever recorded.
It is crazy to see how much emotional variety and melodic range Radiohead has and the trademark they've created for themselves in music. It's definitely not like the generic grunge album or bratty britpop sound you'd hear from other artists in the United Kingdom. This album was a fresh breath of air. It had an amazing influence over pop and rock music and still resonates with listeners years and years later. 
There's not many albums today that are able to make a clear division between light and dark music that still remains experimental, it seems almost as if popular artists are afraid to try anything different than they usually would. With OK Computer, Radiohead didn't just perfectly go with their gut and make something completely different, but they made it so easy and likable. That's probably why so many people still enjoy listening to their music because their music doesn't have a time label on them… it doesn't matter when you listen to the songs, they can still relate to your life no matter the year. 
Leave a Comment