Ariana Grande's "Positions" Album Review
If Ariana Grande wasn't already considered one of the greatest female artists of our generation, this album cements her status.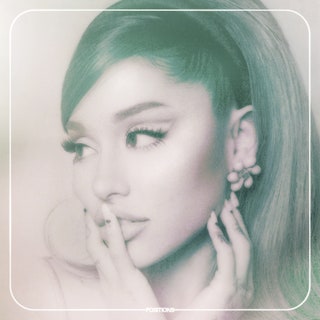 Although no one can hit the dance floor or attend any concerts this year, Ariana Grande made an album full of pop roots and even a hint of sultry R&B that is guaranteed to make you want to move. The newly released album, "Positions," is quite scandalous compared to her previous albums but also showcases her powerful vocals across the fourteen songs, each being more revealing and surprising than the last. While fans continue to applaud and appreciate her powerful vocals and catchy hooks, many have criticized her mediocre writing and are unsure whether or not Grande fits this new R&B sound she has embraced in this album. These new songs all revolve around her self growth after a breakup and the healing that comes with it, also revealing her new romantic relationship in a few songs. Grande has never been shy in her previous albums to sing about the challenges and fun that come with long-term relationships, which is very noticeable in her newer work. 
The album begins with "Shut Up" and this is a delight for the ears. It's somewhat of a surprising way to start the album as this song doesn't strike as a powerful start, but definitely a fun one. Nothing about it is heavy or emotional, just blissful tunes and sassy lyrics. Something about this song creates extreme imagery. If you close your eyes, the instrumental of this song makes you think about pink clouds, desserts, and Cinderella ball gowns. It's like living in a fantasy. The strings, oh the strings. They are beautiful, almost sounding like they are from an actual fairy tale. Lyrically, we have heard more from Grande before, but this is definitely something to take as more lighthearted and easy for the ears. It brings joy with every listen and there's plenty to adore as it feels like a cinematic ending to a magical movie. 
"34+35" is definitely one of her most revealing songs compared to the radio friendly songs she has been producing throughout the years. This is a song I doubt her younger audience will understand, understandably. This song has been talked about within Grande's fan base because it was highly anticipated once she posted a snippet. It's definitely a flirty and pop-based song with lyrics that sound quite familiar, but melodically it's enjoyable. 
"Motive (with Doja Cat)" is a collaboration everyone has been waiting for. Their energies and sass perfectly blend together and they produced a great, trendy song. It starts with a retro feel, almost making you expect it'd stay that vibe the entire time but it gradually transitions into a more pop tune mixed with R&B beats. However, I can definitely imagine a similar retro music video like the "Say So" video by Doja Cat. Lyrically, the concept is interesting. Grande and Doja Cat tell us a story of being skeptical during a relationship and new challenges she has never faced before. This song is definitely in the top 5 off the album. 
"Just like magic" is simply ethereal. It's definitely a girl-boss anthem, honestly the entire album is very empowering. I can imagine many people who are currently single and healing from past relationships enjoying all of these songs because they really make you feel in charge with your life and feelings. The lyrics in this song give you a sense of hope as you have an insight into her life and the process that comes with being her and how she doesn't let anything come infront of her goals and decisions. 
Grande was very open and emotionally honest during "Off the table (with The Weekend" and it's honestly beautiful to hear. She is so lyrically touching in this song and the vulnerability that comes with the new love she accepts in her life even though she has so many fears. This song is definitely a way for her to heal from past relationships, such as Mac Miller who passed away in 2018. Grande shares her insecurities on whether or not she is worthy and capable of finding love in the way she wants. Listeners really get a sense of how real she is and how she feels the same as most of us. She looks for reassurance in her new partner in a beautiful way as the song builds up, ending with a touching finale and soft strings. 
"Six thirty," is another soft toned, flirty song that is on the simpler side. Must admit, this song is not one that stands out compared to the others. Although it is simple, the story is still relatable as Grande shares her challenges with insecurities and security in relationships. It's admirable that she is so open with her struggles and there's a lot to love in her writing. 
Once again, Ariana Grande shares her vulnerabilities and opens up about her trust problems when finding love in "Safety net (feat Ty Dolla $ign)." The lyrics tell a story of the anxiety that comes with beginning new chapters and healing internally and loving yourself before someone else. It's obvious she has been hurt before and is scared to fall again, hence the reference to needing a safety net. The lyrics in this song are truly beautiful, "is it real this time or is it in my head," this lyric is definitely a reference to her song "In my head," and shows growth. Melodically, it's not as strong and memorable as other tracks but definitely a song to adore lyrically. 
On the album "My hair," a song which is very sleek and slinky as the famous ponytail Grande is singing about, proves how talented the singer is as she reaches into different genres of music. This song is a very different sound compared to the previous tracks and in a good way. It's truly a standout on this album and her experimentation with this sound definitely paid off. It's something many R&B fans have been craving from her, not only does it have smooth beats but also a jazz-style which is so wonderful to hear from her. 
"Nasty" is another simplistic song that doesn't hold too many memorable aspects in my book. Without a doubt it's an easy and pleasant listen but just not a favorite. Would not skip this song but also wouldn't add it to my "favorites" playlist, which is okay. It seems to fade a little into background music compared to the other tracks but could be a fan favorite for others.
"West Side," sadly gets a similar review to the last track. As the album comes to a close it almost seems like the songs become more simple. Unfortunately, this is another forgettable song off the album. The title of this track is also a little confusing, perhaps it is significant to her and not too much to the audience but part of it is questionable. 
The next track does not disappoint, it is perfectly placed because of how refreshing it is compared to the past two tracks. "Love Language" is such a melodically interesting and fun tune. It does not sound familiar to any other song currently on the radio, and sways back and forth between traditional radio pop music patterns and shows aspects of jazz. It's honestly such an interesting song and uniquely produced. 
I wouldn't exactly say that "Positions" is the best song on the album, but it definitely starts to grow on you though. It's very compatible with pop listeners and perfect for the radio, but in a way it's hard to understand why this song was chosen to be the lead single and only song with a music video so far. It's quite simple lyrically but a pleasant listening experience. 
This album ends in the most beautiful and touching way with "POV." This song is truly stunning and the perfect finale track. There's so much to love with this, it leaves the listeners feeling like a better version of themselves and moving in a direction full of self growth and love. It's like closing a chapter and starting over after experiencing pain in the past. Melody wise, it's amazing. It is full of wide-range vocals and even a minor chord. The strong high notes and harmonies are very memorable and catchy, even enough to give you goosebumps. 
The record does have slightly more upbeat moments in "Just Like Magic,"  "Motive,"  and the title track. Grande has proved her versatility in this album, as she effortlessly belts out the emotional lyrics to Off The Table. "Positions" ends with a soul baring track, "POV," to close the album, one of her most powerful ballads. If Ariana Grande wasn't already considered one of the greatest female artists of our generation, this new album cements her status. 
Leave a Comment