Andrea Venezia strives to give special education students the love and help they deserve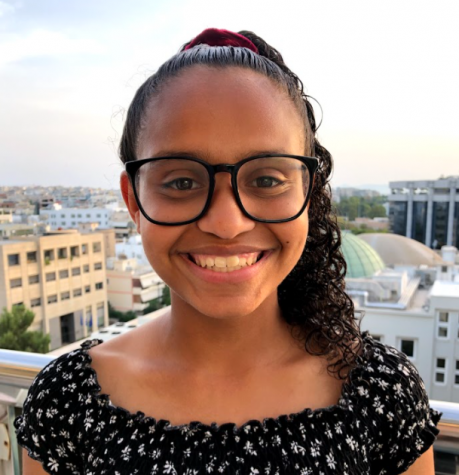 More stories from Arianna Morales
Instructional Aid Andrea Venezia was certain she would never step foot in a school again.  However, exactly when the pandemic started, Mrs. Venezia embraced her new role just over a year ago: exactly when the pandemic started.
Mrs. Venezia works in the job coaching program—a program that helps special needs students to learn how to support their community, communicate with coworkers and customers, and other skills. One of the goals is to learn how to keep a good job and live on their own.
Mrs. Venezia loves her job. "Every day is different," she said, "and its "nothing but good." She notes how the kids are so happy and curious. She loves seeing the pride develop from the students. It's part of the joy of the job. 
She has worked as a dog caretaker to answering calls in a motorcycle shop. Before coming to Eastern,  she worked a similar job at a behavioral school. 
The kids were aggressive. The work wasn't evenly divided between staff, but Mrs. Venezia said she still tried her best. She tried to form meaningful relationships with the students. As she recalled those hectic moments, she remembered that she once pursued a career as a physical therapist. She found a passion in helping others grow and recover as she was aided in her own injuries as a gymnast.
Under COVID 19 protocols, of course, the program adapted. They found new ways to teach the importance of responsibility. Normally, the students work at a job for about three to four hours during the school day.  Now with the pandemic limiting job opportunities, there's extra time to fill. With all this extra time it's "hard to fill the gap," she said, "[So] We try to keep them busy and keep it enjoyable." 
They fill the time by doing little jobs around the school, like managing the school store, doing chores, or baking dog and cat treats to take to shelters. 
But "It stinks not being able to give a kid a high-five," she said. Since not all the students are in-person, Zoom and Google Classroom are used to keep the class connected. Although it does "connect" the class together, it does little to help establish the important connection between aids and students.
At first, it was figuring out the technology, but now it's a matter of how to keep students engaged throughout the school day. If anything, she said that Zoom has forced her to "come out of her shell." It also helps that Mrs. Venezia never works alone, she always "[has] backup" during those awkward moments.
More specifically, she works one-on-one with a student with epilepsy, a condition that results in sudden brief episodes of seizures. Venezia's job is to make sure her student doesn't experience seizures. Even if a seizure does occur, she knows what to do and she's right there, from every bus ride to every "hello" her student gives to her fellow classmates.
Her student is "one of the most outgoing, she is such a happy kid," and "she loves to be in charge."Although Venezia is responsible for tracking "a lot of data," she tries to make sure her student along with the others has fun whenever possible. It's only natural that working one on one has created a personal relationship between student and aid. "It's very easy to get close and attached," she said, after all, "they just want attention and love."
She said "patience, patience, patience," is the key to working not only as an instructional aid but also key to working with kids in general. She's had "kids tell [her] the craziest stuff," so she recommends not bring it home and not take what they say personally. She said it was important that you don't hold yourself back from your own passions, "if you wanna do it, do it. Have faith in yourself."
Leave a Comment