Nog-Off: A Surprising Charitable Tradition
   In November of 2018, a few upperclassmen gathered in the parking lot of the Walmart, shivering as they each held a half-gallon carton of eggnog in their hands. There was only a small group of them, maybe six or seven—but the videos they posted on their Snapchat stories that night would be viewed by over a hundred people. One of them counted down from three, and on the signal, they each raised their carton to their lips and began to chug.
   The goal was to be the first to finish the half-gallon of thick liquid and be crowned the Nog-Off champion. 
     "I wasn't there," said Donahue, the current head of Nog-Off. "I don't remember if I knew what it was at the time it happened. It wasn't my idea."
     Donahue didn't join in on this disgusting tradition until the following year, as the event grew in popularity. He recalls posting a flier on his story, encouraging others to come to the event. 
   "Nobody really ran it," said Donahue. "We just did it because it was funny," he said. "It started as a joke."
     In November of 2019, over 20 teens showed up in the parking lot. They drank nog, some threw up, and one was crowned Nog-Off champion. 
   "It's terrible," Donahue says. "Friend to friend? Don't do it. It ruins your entire night. It changes your perception of eggnog. Definitely."  
     As the 2020 Nog-Off season approached, Donahue recalls thinking about what he could do with the growing support for the event. He posted an announcement on his Snapchat stating, "Nog-Off is now a charity event," along with the link to his Venmo for contributions towards Toys for Tots.
   "I thought I'd get like 200 bucks," he says, "but going into Nog-Off, we were already at $1600." 
     The incredible support for the event was astounding and caught Donahue off guard. "It was so out of left field," he described. 
    The day of the event came with over 90 participants, $2200 raised, and over 300 toys purchased. Owen and his friends were able to purchase over three hundred toys. Donahue recalls this moment as an important one, marking his realization of the difference he could make in the lives of underprivileged children. 
     Then, as the 2021 Nog-Off season began to approach, Donahue remembers feeling the pressure of the upcoming event. Busy with work, school, and sports, it was difficult to plan the event. However, Donahue decided to reach out to the Berlin Farmers Market.
   "Last two years, the cops ended up coming after it was over. This year, if the cops came, I wanted to have backup," he said.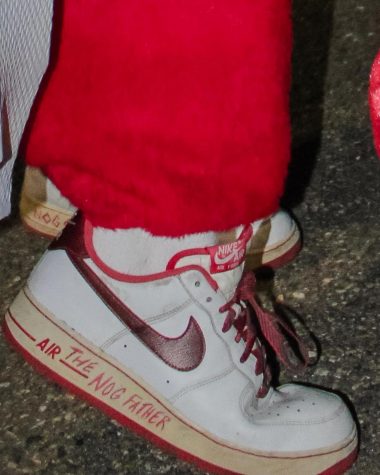 Much to Donahue's surprise, the Berlin Farmers Market approved his request. With the go-ahead from the market, Donahue knew he had to go through with it. 
     "It's really not a well-run event," he says. "I don't want it to be. I don't ever want people to feel like they have to donate or they have to give money to go to Nog-Off. If you have money to donate, please do. If not, just come to Nog-Off."
   Donahue understands that not all participants are able to donate, but he appreciates their support of the event nonetheless. Nog-Off stands as an event for entertainment above all else. While he has tied in a charitable contribution, Donahue focuses his efforts on maintaining the integrity of the lighthearted event. 
     Two weeks later, on the night of November 27th, 2021, over 120 people gathered in the parking lot of the Berlin Farmers Market, many holding their own cartons of Eggnog. Owen Donahue, donning his Santa Suit and stepping up to the line of contestants, waited for the count down. The guys began to chug, and John Sacco, a friend of Donahue's, was crowned the Nog-Off 2021 champion.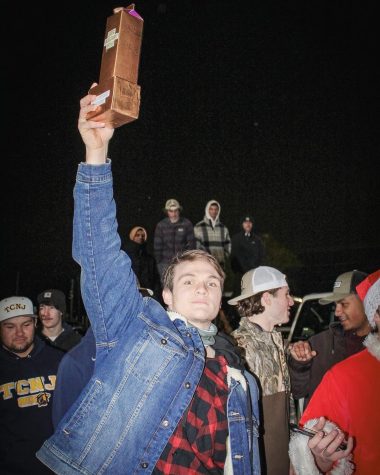 Although the night of festivities was over, the work was just beginning for Donahue and his friends. The boys collected over $3000 to spend on toys and began their shopping. 
     "My favorite memories are buying the toys," Donahue says, "the feeling of being a kid again and buying thousands of dollars of toys with your friends and knowing that they're going to kids who don't have them."
     Using Sacco's employee discount at the local Target, Donahue and his friends were able to buy even more toys. They focused on getting a wide array, from toddler toys to tween entertainment, for boys and girls alike. 
     On December 6th, the first delivery of toys was made to a local school district, and the rest will follow shortly. Despite his humility about his success, Donahue has created an important event he hopes will last years into the future. As long as people continue to show up, he hopes to continue to host these events.
   "Until people stop showing up, I feel it's my obligation almost to keep doing it," said the host. 
     While he does not make a penny from the events, Donahue enjoys furthering the spirit of Nog-Off. 
   "Without other people, Nog-Off is nothing—so I guess everyone coming together and contributing to Toys for Tots is what it's all about," he said.
    The event started as a joke, but it has turned into a charitable tradition far greater than expected. In the spirit of Christmas, people continue to gather on the cold November nights, embracing the true meaning of the holiday: drinking eggnog past the point of sickness. 
    Nog-Off now stands as an opportunity for teens to get together, celebrate the holiday season, and support a noble cause: a future Owen Donahue never would have predicted, but is more than happy to continue.
View Comments (2)