"Christian Dior: Designer of Dreams" is a must see
The exhibit's attention to detail was as meticulous as Dior himself.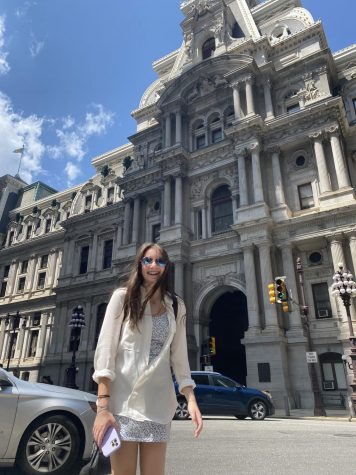 More stories from Leah Snyderman
   Christian Dior is a designer of dreams. 
   There may be a slight bias in saying that; Dior has been one of my favorite designers since I conducted a research project centered around his life and contributions to the fashion industry almost three years ago. But the exhibit "Christian Dior: Designer of Dreams" proves why Dior is worthy of this title.
   Created by Florence Müller and Matthew Yokobosky, the exhibit is currently showing at the Brooklyn Museum. It has already made stops in London, Shanghai, Chengdu, and Paris. 
   Last week, my mom and I braved the cold and made the trek down to Brooklyn from the Upper East Side. The hour-long subway ride was beyond worth it. 
   The exhibit begins with a timeline of Christian Dior's life and moves into his early pieces and sketch book clippings. There are screens showing clips of interviews that Dior did, explaining his earliest inspirations. His groundbreaking New Look is a highlight in this section, as the exhibit especially emphasizes how New York City inspired him — a fitting detail for the current audience. 
   You then walk through a timeline of the House of Dior's successors: Yves Saint Laurent, Marc Bohan, Gianfranco Ferré, John Galliano, Raf Simmons, and, current Creative Director, Maria Grazia Chiuri. Each designer has a display dedicated to the years they ran the House with some of their most prominent pieces. It shows the progression towards modern day fashion and how each designer interpreted Dior's vision to fit their own style and the style of the times. 
   The next room focuses on how Dior's designs and legacies are photographed. The House has been involved with some of the most iconic pictures of all time, like Richard Avedon's Dovima With Elephants. The original dress, designed during YSL's reign, is placed in front of the photograph.
   The exhibit made sure to hit all of the Dior brand, paying homage to Miss Dior, the perfume line inspired by Christian Dior's sister, Catherine Dior. A colorful wall creates a rainbow of Dior pieces ranging from the earliest lines to present day. Handbags, shoes, mini dresses,  perfume bottles, inspiration pictures, and many other accessories are lined in color-order to create this rainbow.
   After walking through an explosion of color, there is a sharp contrast as you step into an all white room lined with mirrors. The room dedicated to the atelier stage of designing is a true standout of the exhibit. Ateliers form and sculpt the initial pieces onto a mannequin; it's like a blueprint for what the piece will look like. This section shows where the work starts and how much detail goes into each piece.
   The main room creates a celestial feeling as soon as you walk in. Dresses are positioned on shelves and hang from the walls as all of the House of Dior's designers' pieces are combined together. It has the signature Dior sparkle to the displays as you walk around the circular room. Designers are mixed together to show Dior's vision and everlasting legacy. Dresses are broken into displays with titles like "Enchanted Garden." They again show how each designer interpreted Dior's themes and made it their own while staying true to Dior's attention to detail and signature silhouettes. 
   The final room shows Dior's designs in action. Original pieces worn by celebrities on red carpets throughout the years are matched with a photograph of the celebrity and their look. Pieces like Princess Diana's iconic slip dress worn to the 1996 Met Gala can be spotted in this room.
   The exhibit ends with a quote from Dior: "My dresses make a princess of every woman." 
   I was truly impressed with the design and curation of the exhibit. I would even say that it's the best fashion exhibit I've ever seen. Its attention to detail was as meticulous as Dior himself. 
   It showed the pieces from the ground up, including every stage of creating a look: mood boards, initial sketches, fabric swatches, the atelier, the final piece, and the look itself in action in photographs, on the runway, or on the red carpet. The exhibit allowed you to move through time with Dior. 
   I would recommend this exhibit to any fashion enthusiast and anyone who believes Dior is a designer of dreams. Act quick, though! The exhibit closes at the Brooklyn Museum on February 20th. 
This article was originally published on https://www.leahsnyderman.com/post/christian-dior-designer-of-dreams-is-a-must-see. 
Leave a Comment