Wrestling's Jared Brunner reaches 100 career wins
Brunner, a third generation wrestler, has reached one-hundred career wins. What does he have in store for the future?
   Jared Brunner made history on January 21st, 2022.
   In a home match against Cherry Hill East, surrounded by his friends, coaches, teammates, and family, he became the 19th wrestler in Eastern history to reach 100 career wins. However, that's only part of the story of his ascent to South Jersey sporting stardom.
   Wrestling runs deep in the Brunner family. His father wrestled for Cornell University, and his grandfather wrestled for Brown University.
   Brunner first began wrestling at the young age of six, taking part in the Eastern Junior program where his father coached. After the high school practices concluded, kids of all ages would come in for their own practice, and go head-to-head in matches of their own. Brunner was too young at the time for the older high school athletes to know who he was, but he looked up to them as role models for his budding career.
   Brunner is from Cherry Hill, New Jersey, but initially joined the Eastern Junior program due to the lack of a similar program in Cherry Hill. However, as he moved through the program, he grew attached to the friends and relationships he formed.
   "That definitely pushed me to come wrestle for Eastern; being around all those kids and definitely forming those bonds with the older kids from the Junior program helped, so definitely seeing them allowed me to form some core relationships," he said.
   Brunner transferred to Eastern before his freshman year, and he's been a core member of the team ever since.
   Currently competing in the 113-pound weight class, Brunner has moved between classes throughout his career. He competed in the 106-pound class during freshman and sophomore year, moved up to 113 in junior year, and went as high as 120 this season, before returning to 113 later in the season.
   As a result of his experience, he knows that each weight class plays very differently.
   "The lighter weights definitely move a lot more, and they wrestle a lot quicker, maybe a little more intense," he said. "Each weight class definitely has its own advantage; the heavier weights the kids are a lot stronger and harder to lift, and the middle weights are a combination of both."
   For Brunner, the season has been solid so far. Adjusting to the 120-pound class was a challenge for him, and he had to adjust once more when he returned to the 113 class. With the season running from November to March, championship season is approaching, and he and the team are more than ready.
   "A bunch of kids are excited to get their names on some walls. I'm excited to get that state title, that's been my goal for a while now. I feel more confident than ever that I can get that this year," he said.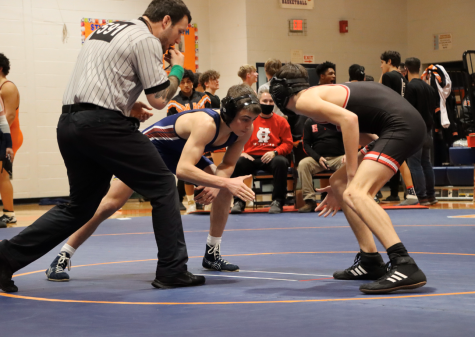 Brunner is no stranger to success in the postseason. He was the district champion in 2020, was a regional finalist in 2020 and 2021, and placed in the state in both years (The order of postseason progression is districts, regionals, then states).
   His most recent accomplishment firmly cemented his place in Eastern sports history. In front of his extended family—parents, grandparents, aunt, and uncle—he hit the century mark in career wins. 
   "After the win, it felt great to look up there and see the banner with 100 wins on the wall, and know that my name's gonna be up there; see my family in the stands cheering, and see my teammates going crazy on the side. It was a great feeling," he said.
   His coaches congratulated him on the milestone, but reminded him that his work isn't done yet.
   Brunner's work is never done; he trains for wrestling year-round. When he's not competing in the winter high school season, he competes at the Seagull Wrestling Club in Mantua, NJ during the other seasons of the year.
   The two formats of competition are quite different, both in atmosphere and overall time. Club wrestling is typically a few days a week, but Eastern wrestling is six days a week. In general, high school wrestling has more beginners, while the club circuit has athletes that put in extra time.
   As a senior, Brunner is one of the team captains, and he credits his development as a leader to his role models from freshman year: star athletes T.J Franden and Jacob Brocious.
   "Having those positive influences definitely helps rub off on me, and I hope rubs off on the rest of my team," he said.
   Amidst the pandemic, the sport of wrestling has surprisingly not changed much, despite its heavily-physical nature. Besides certain changes such as not being able to shake hands with other teams, and the implementation of a shortened season last year, everything has mostly remained the same.
   Unfortunately, last year's short season may have derailed Brunner's quest for setting a new Eastern all-time win record. Robert Deutsch currently holds it with 155 wins, but there aren't enough matches left in the season for Brunner to best him. Despite this, other records he hopes to set include most pins in a season, and most wins in a season.
   As a freshman in college, Brunner will continue his career at Brown University, following in his grandfather's footsteps.
   Aside from his wrestling career, Brunner enjoys math and computer science in school, and plans to major in the latter. In the workforce, he envisions having a job that combines coding and design; maybe at a tech company like Google or Microsoft.
   "I like to think that I have a good imagination and I like coding, so combining the two would definitely be a bit of a dream job for me," he said.
   In his free time, Brunner's hobbies include cooking, water sports, traveling, and hanging out with his friends. Some of his favorite foods to cook include french toast, eggs, and pasta.
   "Anything I can read a recipe on," he said.
   For wrestling, keeping a well-balanced, healthy diet is crucial, and Brunner is very careful with monitoring his diet. He likes to stay high protein, loading up on chicken, oatmeal, veggies, sweet potatoes, and drinking plenty of water.
   If he didn't wrestle, Brunner would like to be a member of the golf team. However, his year-round wrestling schedule would cause problems with attempting to play both sports at once.
   "[Golf] is definitely something I want to learn how to play, and it looks like a fun sport," he said.
   In terms of traveling, Brunner has been to a wide variety of places, including Canada, Mexico, Spain, Portugal, France, and all over the U.S.
   "Definitely experiencing different cultures and seeing different sites is something I love," he said.
   In ten years, Brunner envisions himself owning a computer shop, and finding ways to combine his loves of coding and design. He'd like to live somewhere warm; maybe the West Coast or Hawaii.
   "Living a tropical life," he said.
   But in the meantime, wrestling is all that he has on his mind.
   Is an NJ state title next?
   "Definitely."
Leave a Comment