Eastern Breaks the Ice
Eastern Theatre Club is thrilled to tell this magical story on stage.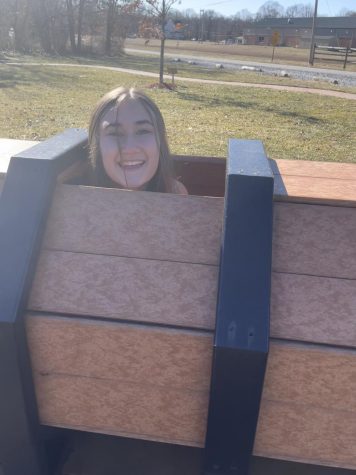 More stories from ZOEY BLACKMAN
The United States of Frozen 
    As of September 9th, 2022, Eastern High School became one of 51 schools to win the production performance rights and the script and score materials to Frozen: The Broadway Musical. Now, you might be thinking something along the lines of "What does that even mean…or…Isn't that the movie with the ice and the talking snowman…or…I only pay attention to Eastern Theater when their shows get me out of class". The Educational Theatre Association, Disney Theatrical Group, and Music Theatre International worked together to create a nationwide competition called "The United States of Frozen" for schools around the country to be the first in their state to put on this Disney sensation. Productions such as Frozen Jr. or Frozen Kids have already been created; these are essentially shortened versions of the broadway musical that theater companies everywhere have performed for the last few years. However, no company besides the professionals have performed the full show. At least, not until now! As it states in the press release, "Applicants were asked to describe their unique vision of Frozen and how they will use the theme 'Love is an Open Door' as an opportunity to strengthen their school community, provide outreach to underserved groups, and support inclusive and diverse theater programs." Of the many schools that applied, Eastern was selected to be the first school in New Jersey to produce Frozen: The Broadway Musical. 
A Quick Frozen Recap
  For those who have been living under an iceberg, here is a little recap on the story of Frozen and why it is so special. Frozen originated as a Disney movie following the story of two sisters, Elsa and Anna, who are daughters of the royal family in Arendelle. However, there is one striking difference between the siblings; Elsa was born with magical ice powers. After accidentally striking Anna with her powers, Elsa is shut away from the world and her sister. When it is her time to become queen, Elsa still has little control over her power,  and Anna has no idea why her sister stopped talking to her. At her coronation, one thing leads to another and Elsa's emotions take over. She accidentally creates an eternal winter in the town of Arendelle and  runs away now that her secret is out to her people and to Anna. It is now up to the two sisters to find a way to save their town and to find each other again. Frozen is a story of family, acceptance, and most importantly, love. After the movie became an absolute hit around the globe, it was sculpted into a broadway musical. Jennifer Lee, co-director and screenwriter of the movie, wrote the musical's book, continuing her Frozen journey. Since the musical is performed by people rather than animation and runs much longer than a movie, it provides a more intimate and in-depth experience for its audience. It demonstrates a deeper and richer understanding of the characters and story everyone loves. Along with a beautiful story, Frozen is extremely famous for its well-known and catchy songs-on't lie, everyone has belted out "Let it Go" in the shower before. The movie's songwriting team, Kristen Anderson-Lopez and Robert Lopez, revised their old music and even created new show-stopping songs for the Broadway production. These songs now take the Eastern stage. 
Eastern's Icy Adventure 
  Eastern Theatre Club is thrilled to tell this magical story on stage. The show was cast in the beginning of December with rehearsals beginning right away. This show is very challenging in regards to vocals, dance, and acting. Dr. Molotsky (director), Mrs. Akinskas (vocal director), and Sara Braslow (choreographer) are hard at work to create a beautiful production. Along with their directors, the cast is ready to put in their all and share a magical performance. The technical aspects of the show are insane. From making their own full body Sven suit to constructing intricate set pieces to fabricating beautiful costumes to developing their sound system to creating Elsa's ice powers on stage, those on tech have their hands full! Lynn Molotsky (stage crew director) is already leading her crew in the right direction, creating beautiful work! The tech crew works so hard and never fails to create beautiful work for Eastern's productions. Mazie O'Keefe (head costumer) and Leah Donkochik (assistant head costumer) design beautiful costumes that will capture the true Disney magic. Zuzu Long (production stage manager), Jenna Slater (stage manager), and Carly Saia (assistant stage manager) do an amazing job of running the show and are always on top of everything. Clarissa Weaver (sound and light co-president) and Julian Carruolo (sound and light co-president) run the sound and light club and systems for Eastern Theatre flawlessly. Weaver, Carruolo, and all of sound and light have a tough job but will no doubt create magic. Tech is not something that can be overlooked, and Eastern is so lucky to have so many talented crew members to carry its productions. So many people are needed to create a show, especially one as big as this, and every person, from directors to cast to crew, plays such an important role.
  Eastern is so thankful to everyone involved in The United States of Frozen for this amazing opportunity. 
Leave a Comment