Riot on Capitol leaves our nation in chaos
On January 6th, 2021, fourteen days before his White House exit, President Trump made an unforgivable decision that will go down in not only the history of our nation, but the history of our world.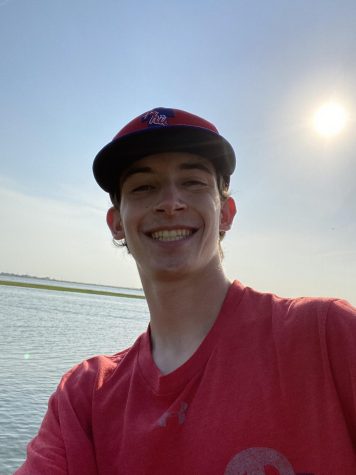 More stories from Andrew Shinkle
What was happening in your life four years ago?
  For me, I was in the middle of seventh grade, likely just returning from winter break. Life was simple, fun, and a whole lot less complicated than it is currently. In retrospective, society in the United States could be described very similarly.
  Four years ago, President Donald Trump was sworn into office, and the world hasn't been the same since. Tensions were tremulous at the start, with Democrats and Republicans disagreeing over Trump's eligibility for the Oval Office. In the left's opinion, common sense alone would inform you that he's never been fit for the job.
  With a boisterous temper and a habit of spreading "alternative facts," Trump's behavior was under intense scrutiny from the liberal media long before the beginning of his term in January 2017. Over the course of his divisive presidency, the noise has continued to grow louder and louder with each questionable choice he's made. But on January 6th, 2021, fourteen days before his White House exit, he made an unforgivable decision that will go down in not only the history of our nation, but the history of our world.
  Ever since the election back in November 2020, in which president-elect Joe Biden emerged victorious, Trump has refused to acknowledge the legitimacy of the outcome. He alleges that there were cases of widespread voter fraud among Democratic voters, alluding to mail-in ballots and the private ballot-counting process. But no substantial evidence has been supplied; it's the conduct of a sore loser who's grasping at straws, trying to hold on to power.
  In the last days of an infamous presidency, the events of January 6th have marked the final straw. Here's what happened, plain and simple: the President of the United States refused the outcome of the election, and incited a terrorist attack on the Capitol, the seat of our democracy.
  Does that sound like the United States to you? No, this feels like an event torn straight out of a dystopian novel. Except this time, it's for real.
  The crazed rioters gathered en masse in front of the Capitol, and easily overcame the tiny force of Capitol Police who were present; some of which appeared to stand aside and let them through. They battered the outside doors with force, eventually breaking through into the foyer, and the Senate chamber itself.
  Thankfully, the members of Congress had previously evacuated to a safe location, but the true damage was dealt to our national identity. The blood of the American people is now on Trump's hands, since five lives were lost in the riots. What kind of time do we live in, where the leader of our country—the person who's supposed to unite us—can incite such a horrific and deplorable scene?
  This kind of behavior is utterly inexcusable, and for Trump, it's treason in every sense of the word. He has not fulfilled his requirements as President of the United States, and should be impeached again as a result. A potential 2024 campaign should be out of the question.
  Inauguration Day stands about a week away, and there are signs that there is more violence yet to come. Many Trump supporters have announced their intentions to riot and fight back against the rightful winners of the election, and in response, at least 20,000 National Guard members will be deployed in Washington, D.C on the 20th. It's very worrying to imagine what might transpire, and I'm nervous for president-elect Biden's safety.
  All of this will take place amidst a worsening COVID-19 pandemic, which has seen its highest transmission rates ever recorded in recent days. But if you don't believe that something exists, it can't hurt you, right?
  The United States of America is becoming a little less united, and until order is restored, we're in for an interesting period in our nation's history.
View Comments (1)