A Few Eastern Teachers Reimagined as SpongeBob Characters
Many teachers resemble SpongeBob characters, and this article showcases their similarities.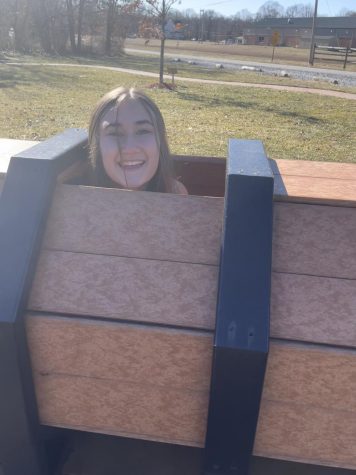 More stories from ZOEY BLACKMAN
  Everyone knows and loves the classic childhood television show: SpongeBob. The addicting plot sucks viewers in as they enjoy every single episode of this underwater tale. SpongeBob enthusiasts appreciate the famous characters. These characters each have their own defined personality and traits. Many teachers at Eastern resemble SpongeBob characters, and this article showcases their similarities. 
Mr. Stanz as SpongeBob
  SpongeBob SquarePants is everyone's favorite protagonist that lives in a pineapple under the sea. This sea sponge is known for his happy-go-lucky personality. He loves having fun and enjoying life, and his jokes and hilarious personality are top tier. Eastern's teacher, Mr. Stanz, shares these same traits and is Eastern Regional High School's very own Spongebob. Along with their similar personalities, SpongeBob and Mr. Stanz also share a love for music. SpongeBob sings quite frequently, showcasing his angelic voice. He is seen playing multiple instruments such as the ukulele and guitar. He can also use his nose as a flute! Mr. Stanz, being a music teacher, has a great love and passion for the arts as well. Along with teaching music classes such as music theory and band, he conducts the orchestra for the school's musical and the marching band which is commonly seen at football games. Mr. Stanz and SpongeBob both have many experiences in the music industry. I wonder if Mr. Stanz can play the flute on his nose! Nonetheless, Mr. Stanz is the SpongeBob of Eastern.
Mr. McAleer as Patrick
  Patrick Star and Mr. McAleer, commonly referred to as Mr. Mac, are one in the same! Patrick is known for his loving and magnetic personality. Patrick is also very popular for being a great friend to Spongebob. Mr. Mac is a beloved Eastern teacher who is known for being someone his students can depend on. Patrick has an array of different and unexpected abilities and talents such as CPR administration, dancing, karate chopping, performing stunts, regeneration, seahorse riding, jellyfishing, and more. By spending time in Mr. Mac's classroom, it's easy to tell that he has a wide variety of knowledge, interests, and hobbies. Someone can ask Mr. Mac any question in regards to history, and he will know the answer. Although Mr. Mac doesn't live under a rock under the sea, he and Patrick share many qualities, making him the Patrick Star of Eastern High School. 
Mrs. Roberts as Squidward 
  Squidward Tentacles is known for his sarcasm and tough shell. Squidward likes to come across as tough and stubborn, but he is really caring and kind. Mrs. Roberts, beloved physics and environmental science teacher, has mastered the perfect (and hilarious) sarcastic humor. Mrs. Roberts is an understanding and caring teacher even though she portrays herself as a tough one. Mrs. Roberts shows her care for her students by helping them work hard and achieve things by doing them themselves. She pushes her students to be the best they can be just as Squidward pushes his friends to be the best they can be. Squidward is known for never giving up even if he fails; Mrs. Roberts shares this same mindset and encourages her students to follow this as well.  Mrs. Roberts is the Squidward of Eastern, hands (or tentacles) down.
Dr. Mink as Sandy
  Sandy Cheeks is a squirrel in a diving suit that lives under the sea. If this doesn't scream Dr. Mink, I don't know what does! Sandy traveled from her homeland, Texas, to Bikini Bottom and now lives under the sea. She enjoys her underwater adventures and keeps life interesting and fun. Dr. Mink's classroom is definitely an adventure in itself. Sandy has a bit of a crazy side where she lets herself go and have fun just like Dr. Mink. School isn't necessarily fun, but Dr. Mink makes her classroom an exciting and welcoming environment, motivating her students to learn and grow. Sandy is also intelligent and level-headed which are traits Dr. Mink shares. Her intelligence is shown throughout the challenges her classes provide which encourage her students to work hard. Sandy and Dr. Mink are both kind and care for their friends and students. Sandy can also tend to be competitive. Dr. Mink shares this same idea because we know how she loves a good competition, especially Quizlet Live! Dr. Mink and Sandy are so similar, making Dr. Mink the Sandy Cheeks of Eastern!
Mr. Dawson as Mr. Krabs 
  Everyone at Eastern knows that Mr. Dawson is an accounting genius. Accounting means money, and who else loves money? None other than Mr. Krabs! Mr. Krabs is a very hard-working guy (or crab) who shows a lot of dedication to his business just like Mr. Dawson shows great dedication to his students. Although he can seem tough, Mr. Krabs still cares for those around him very much. Even if Mr. Dawson's accounting assignments seem like a lot, he will always help his students learn and grow! A task such as accounting can be tedious and boring just like working at the Krusty Krab. However, both Mr. Krabs and Mr. Dawson know how to keep their work environment interesting and entertaining. Who else would be the perfect money-loving Mr. Krabs than Eastern's money-teaching Mr. Dawson?
Mr. Thompson as Gary 
   History teacher, Mr. Thompson, is the Gary of Eastern Regional High School. Although Gary might just seem like SpongeBob's sidekick, he is very intelligent. Mr Thompson exhibits intelligence throughout his challenging and intriguing classes, pushing his students to the best of their abilities. Throughout the show, Gary portrays a strong belief in animal rights, showcasing the passionate aspect of his personality. Mr. Thompson is also very passionate in regards to history and the education of his students. Nothing makes a better teacher than one who is enthralled by the information they are sharing, making their classes engaging. Gary adds a comedic aspect to the story just as Mr. Thompson adds a comedic aspect to his classes. Mr. Thompson loves telling a good joke or funny story to keep the energy in his room flowing. Also, can't you see Gary sitting back and enjoying a good history documentary? For these reasons, Mr. Thompson is Eastern's Gary. 
Mr. Bowne as Plankton 
   Nothing is more perfect than Mr. Bowne as Plankton. When selecting teachers for this article, Bowne and Plankton merged together almost immediately. Plankton is the villain of the show, but everyone knows Mr. Bowne can be a bit mischievous at times! Throughout the show, Plankton is determined to steal the Krabby Patty secret formula. Mr. Bowne exhibits this same trait as he is a very determined individual. Once he sets his mind to something, he will get it done, and he works very hard to do so. Mr. Bowne works hard to motivate and engage his students in the classroom. Plankton and Bowne share an intelligent aspect of their personalities and a love for knowledge and learning. If you know anything about Plankton and Mr. Bowne, this comparison makes perfect sense. 
Mr. McConnell as Karen
  Last, but certainly not least, is Mr. McConnell as Karen. Eastern's computer teacher is the perfect fit for SpongeBob's computer character! Karen uses her technology to express her feelings. Mr. McConnell, being the art honors society advisor, advocates for expression through technology and art in the same way! He encourages his students to embrace their creative side. Although a computer, Karen exhibits many impressive talents such as form-switching, lasers, cooking, becoming a television screen, brain control, and more. Mr. McConnell is the same way as he teaches a variety of classes and clubs. Therefore, Mr. McConnell is the Karen of Eastern!
  SpongeBob is a beloved television production with important characters throughout. Eastern high school has its own SpongeBob characters throughout the school, but most importantly, contains many special teachers with exciting traits to motivate their students. 
Leave a Comment